Tim Blight
Recipes for Ramadan: Prawn Jalfrezi
Serves 4, 40 minutes
Prawn Jalfrezi is often described as an Indian-Chinese dish, meaning a Chinese dish prepared according to Indian tastes. It is certainly similar to a stir-fry, but with an unmistakable subcontinental flavour.
Ingredients
250 gms Prawn – shells removed and cleaned
1 onions, chopped
1 tomato, chopped
2 cloves garlic, chopped
2 tsp ginger, chopped
1 tsp turmeric powder
1 1/2 tsp chili powder
black pepper
1/2 green capsicum
salt
oil
1 tsp mustard seeds
1 tsp cumin seeds
1 tbsp lemon juice
10 curry leaves
handful chopped coriander
1 cup basmati rice
2 cups water
salt
olive oil
cloves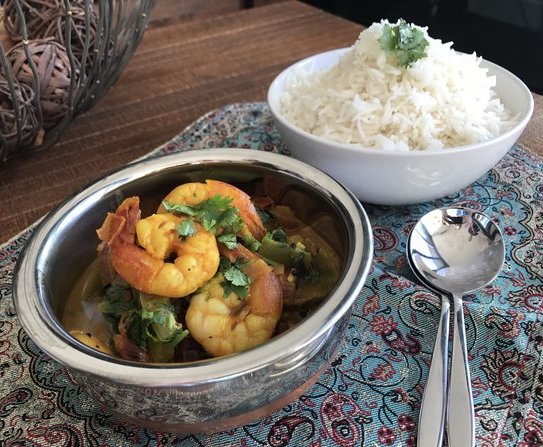 Method
In a bowl mix the lemon juice, turmeric powder, 1/2 tsp red chili powder and a little salt. Add the prawns, then set aside to marinate for 20 minutes.
Heat oil in a pan and add the mustard seeds. Allow them to absorb a little of the oil, then add cumin seeds, curry leaves and half of the chopped onions. Stir fry over high heat until onion starts to soften.
Add the ginger, garlic, half of the tomato, and a little water. Stir fry for another 2 minutes.
Add the prawns, the marinade, 1 tsp chilli powder and one teaspoon of salt. Stir fry over high heat for 5 minutes.
Add the remaining onion, tomato and capsicum and pepper, then add a little more water. Cook for another 5 to 10 minutes, until the prawns are properly cooked but the capsicum is still slightly crunchy.
Meanwhile, in a separate pan, put one cup of basmati rice, two cups water, a teaspoon of olive oil, pinch of salt and three cloves. Cover and boil for 7 minutes, then remove from the heat and allow to sit for 7 minutes.
Garnish the jalfrezi with chopped coriander and serve with hot white rice.
Get many more recipes like this in my book Recipes for Ramadan, available through Amazon – click here!