Tim Blight
Recipes for Ramadan: Chicken Plov
Serves 4, 1 hour
Plov is the Central Asian version of the Greek pilaf, Iranian polo and subcontinental pulao. It's oilier and milder than most pulaos, and is the national dish of Uzbekistan. This chicken version is so easy to make!
Ingredients
2 cups long grain rice
600g boneless Chicken Thighs or breast
2 Carrots
1 red Onion
2 cloves Garlic
1tsp Ground black pepper (to taste)
1 tsp Ground chilli powder
1 tsp Ground paprika
1 tsp Ground coriander
Oil
Salt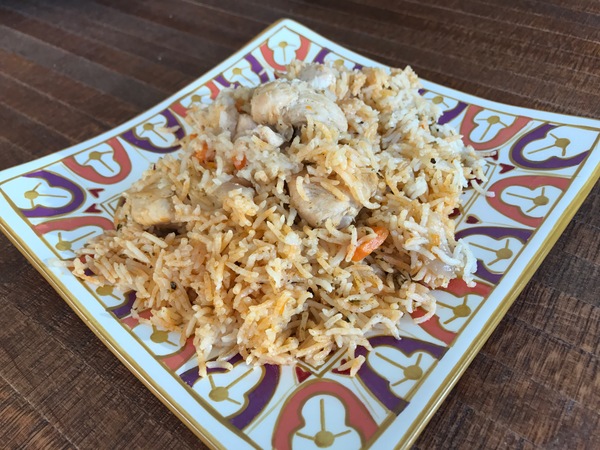 Method
Place rice in a dish with cold water and soak for 30 minutes.
Cut chicken into chunks
Heat a generous amount of oil in a frypan, then add the chicken, and salt it as it cooks
Once the chicken turns a golden brown, add onions and carrots, 2 teaspoons salt, pepper, chilli powder, paprika and coriander powder. Stir fry for 5-7 minutes
Add a enough water to cover the chicken and vegetables by 2 cm, then bring to a boil
Drain the rice, then add it to the frypan, along with the garlic cloves. Do not stir the rice or garlic through.
Cover the frypan and bring to boil
Reduce the heat to low and steam for 25 minutes – do not take the lid off during this time, as the rice is using the built-up steam to cook.
After 25 minutes, lift the lid and check to see if the rice is soft; if not, add a little more water and continue steaming.
If it's ready, cover it again, remove from heat and allow to sit for 30 minutes.
Stir the rice before serving.
Get many more recipes like this in my book Recipes for Ramadan, available through Amazon – click here!