Tim Blight
China Bowl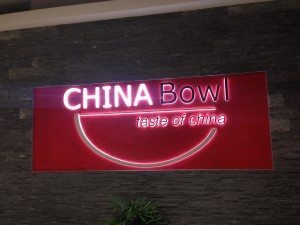 China Bowl, one of Australia's first truly halal Chinese restaurants, is an important milestone in the growth of Australia's Muslim community – and the food is delicious too!
Chinese is often given a wide berth by Muslims outside of their native countries due to a combination of cross-cultural culinary mistrust and a the widely-held perception that in the Chinese kitchen, "anything goes".
It's natural then that halal Chinese restaurants would emerge among Muslim communities abroad – after all, China is responsible for some of the world's greatest cuisine (or cuisines, if you take each region of China as having a different culinary tradition). However in Australia, Muslims account for just 2% of a population of around 20 million. That's not a huge pool to draw from.
The good news is that it's finally happened. Although it can't be confirmed, China Bowl in southwestern Sydney surely ranks as among Australia's first purely halal Chinese restaurants. What this means is halal-certified meat, no pork or alcohol in the kitchen, and definitely no questionable unidentifiable meat products!
And for all this, China Bowl remains one excellent Chinese restaurant in its own right, halal status aside. When I visited with a family member the place was already beginning to fill up with a range of different patrons; some Muslim, some not, but all drawn by the excellent food.
And how excellent it is! We start with the Garlic Prawns; not an adventurous choice, but delicious all the same; seared to perfection. Each prawn is plump and juicy, but could do with a little extra garlic; the sauce had all sunk to the bottom of the pot – to be enjoyed later, I guess!
For mains, we go with the Ginger and Shallot Chicken and the spectacular Sizzling Mongolian Lamb. The chicken is tasty and tangy, and the portion size is generous, while the lamb is something else altogether. From the moment the lamb hits the plate and the spluttering steam rises, our senses are filled with flavoursome goodness.  The lamb dish is addictive; more is not enough, and eventually we start to feel full.
The service is punctual, helpful and friendly, and the setting surprisingly upmarket. In a new shopping centre development, we were expecting nice, but China Bowl would not look out of place in the pricier locales of the inner city.
Washed all down with the refreshing, obligatory jasmine tea, and we have a convivial and halal night out for all – that should get the tick of approval from all quarters. And when you're done, you can go for the fried ice-cream for dessert, or head on over to El Chami Sweets just across the square for some delicious kunafa!
Details
Food: 9/10
Ambience: 8/10
Service: 8/10
Cost: Mains $15 – 25, expect to spend around $30 per person for two to three courses
Corner of The Boulevard and Broadway, Punchbowl, NSW
(02) 8599 2035
www.facebook.com/chinabowlsydney
Monday – Sunday: 11am – 3pm, 5pm – 11pm
Note: China Bowl currently does not accept credit cards, however this is in the works. Until then, come armed with cash!