Tim Blight
15 best coffee spots in Melbourne!
One of the best ways to enjoy a cold Melbourne winter is to cosy up inside one of our atmospheric and unique cafes. It's been a cold and windy end of the week in Melbourne, so there's no time like the present; here are my 15 favourite places to get caffeinated around Australia's southern city!
1. Grey and Bliss; 197 Bay Street, Port Melbourne
This place is one of my favourite spots in Port Melbourne – they do a full brunch and lunch menu, the coffee is great, but the friands or almond croissants stole my heart years ago 🙂
2. Dukes Coffee Roasters; 247 Flinders Lane, Melbourne City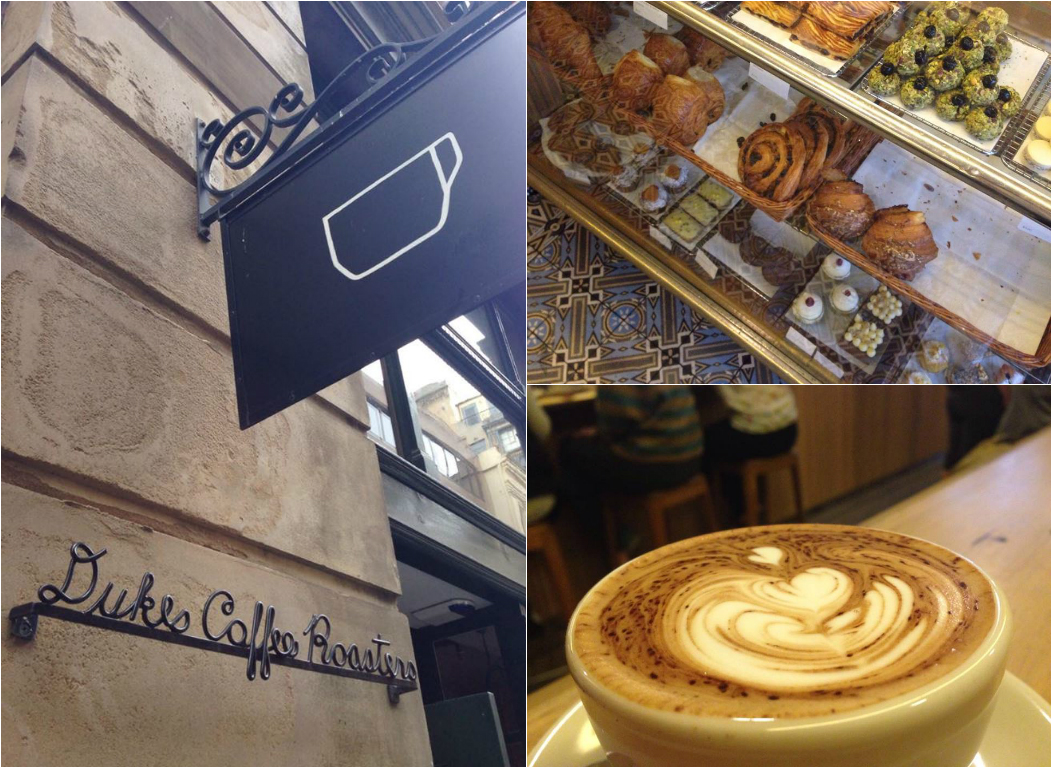 Come for the coffee, stay for the carrot cake! Seriously, there's not much room to move here, but it's worth it, and the atmosphere is full of like-minded souls, retreating from the cold.
3. Cam's, Abbotsford Convent, 1 St Heliers Road, Abbotsford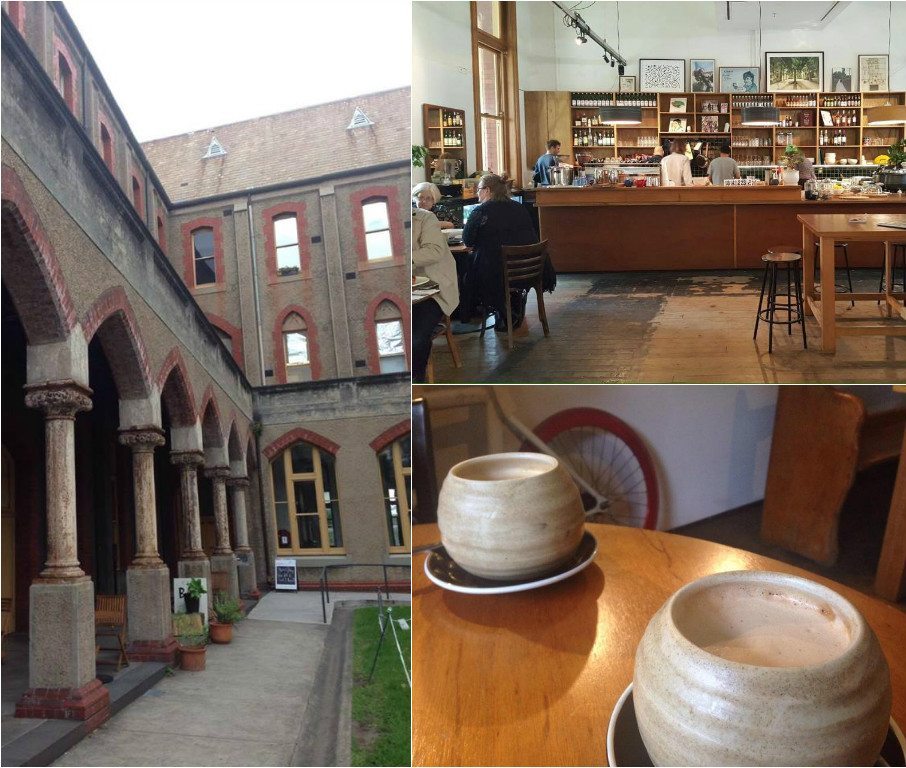 Wrapping your hands around the bowl-style mugs in this cafe, set in the converted Abbotsford Convent, is an essential Melbourne winter experience – and if you're really hungry, you can get your fill at Lentil as Anything in the same building!
4. Manchester Press; 8 Rankins Lane, Melbourne City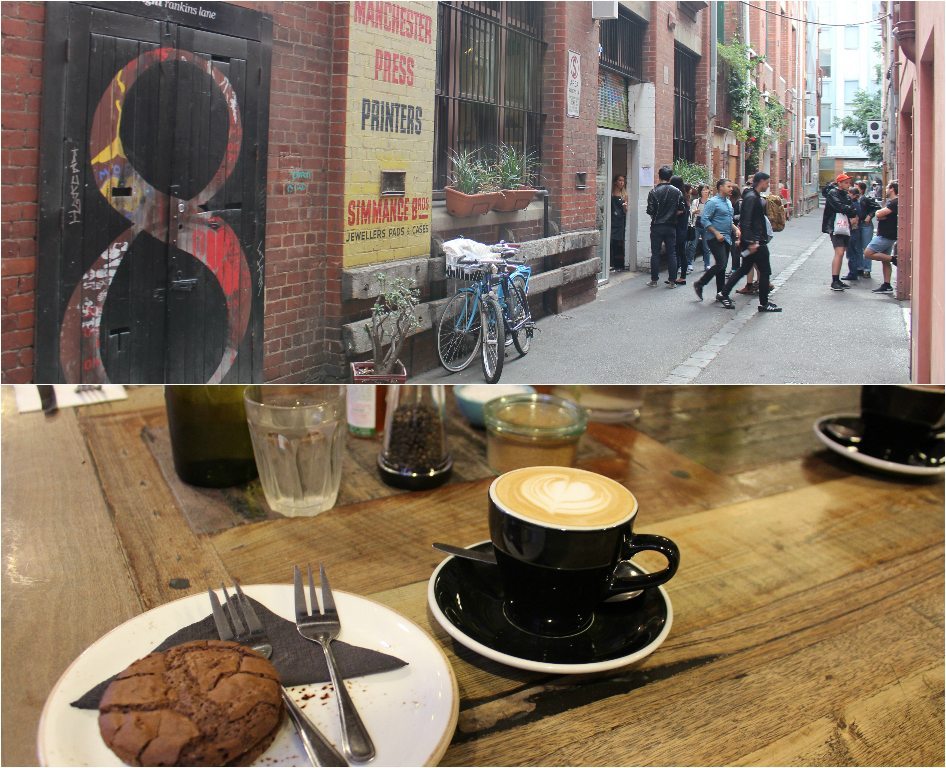 Winner of several awards, Manchester Press is one of Melbourne's best known and loved laneway cafes. The rotating menu of bagels, salads and sweets compliments the hipster-style coffee offerings.
5. Entrecote; 131 – 133 Domain Road, South Yarra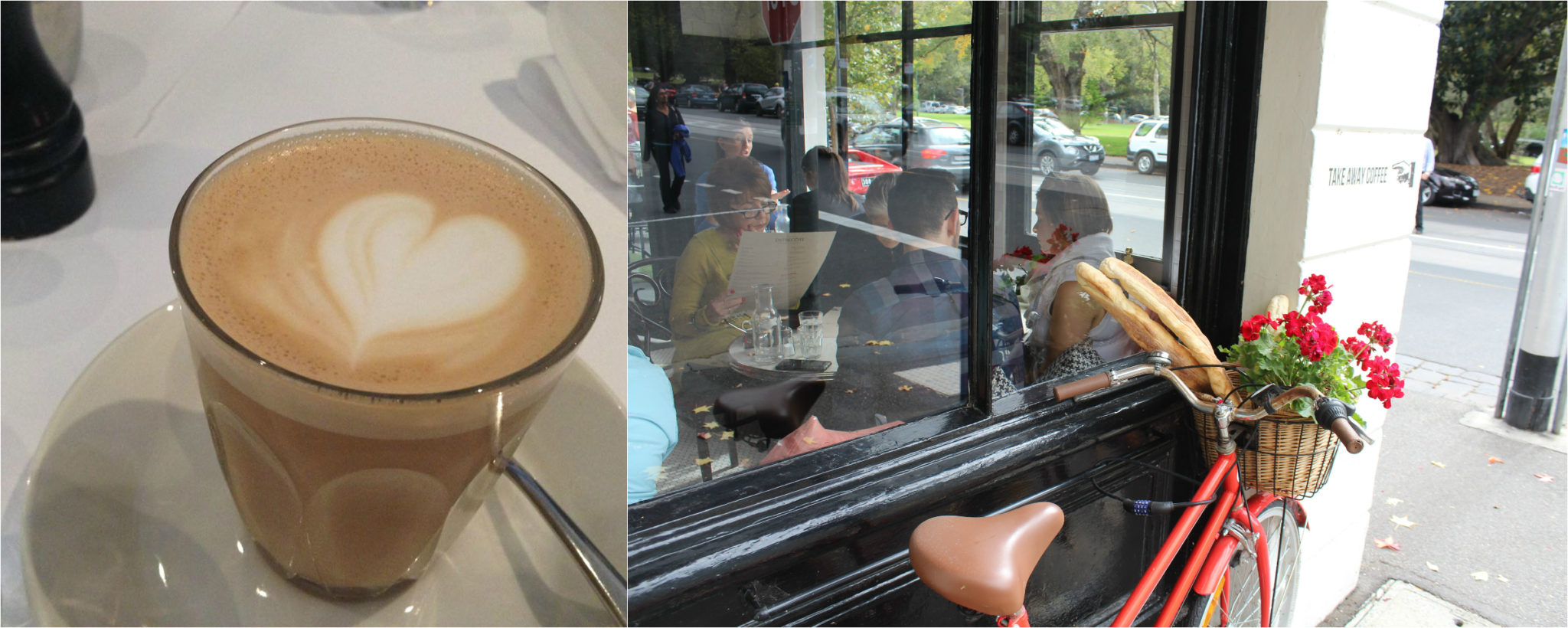 Wake up in Paris with this awesome French bistro. The coffee is delicate and and breakfasts are suitably chic – but you'll need a booking at weekends.
6. Stand Up Coffee; 524 Flinders Street (rear of building), Melbourne City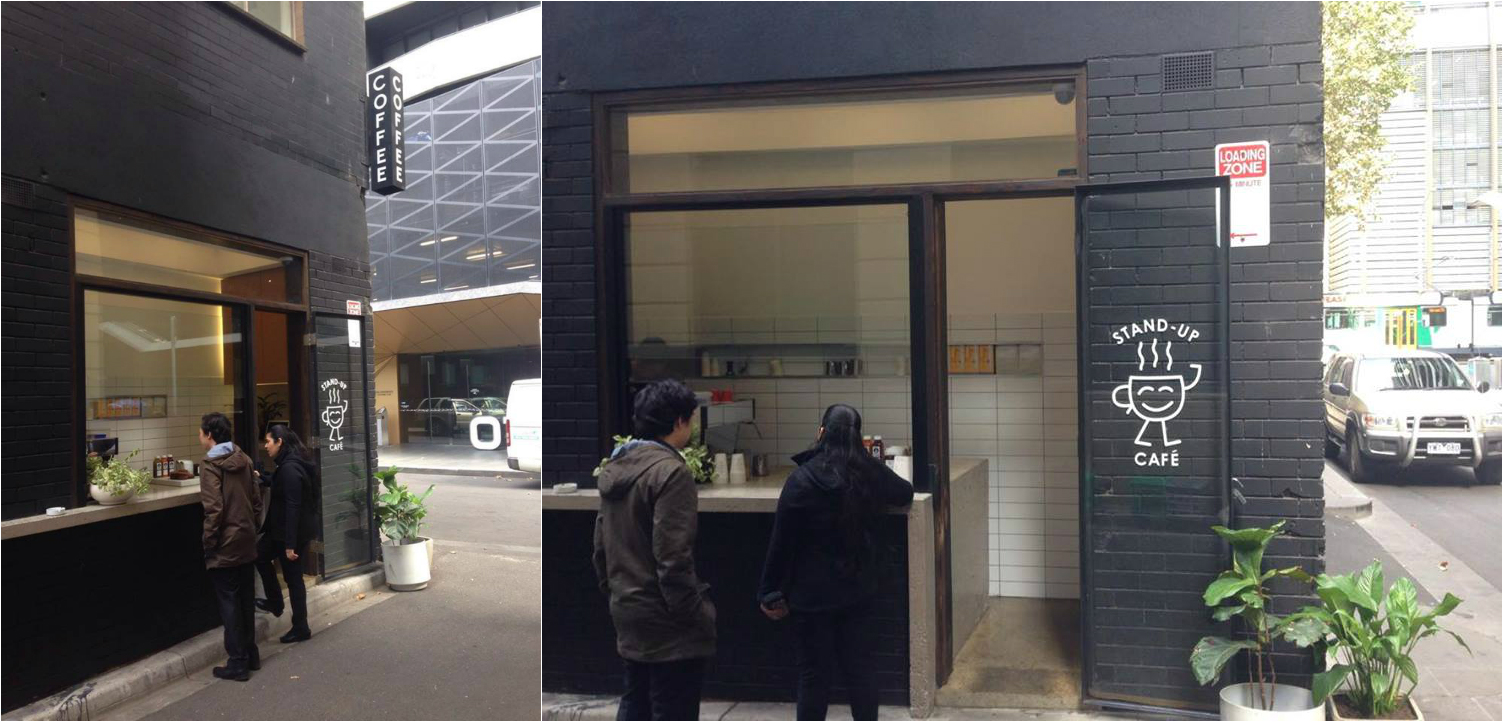 No muss, no fuss – this place truly is a "hole in the wall", and as the name suggests, you will need to stand up at that hole in the wall while you sip your latte. Very Melbourne. (Closed Sundays)
7. Famish'd; 385 Bourke Street, Melbourne City (and other locations)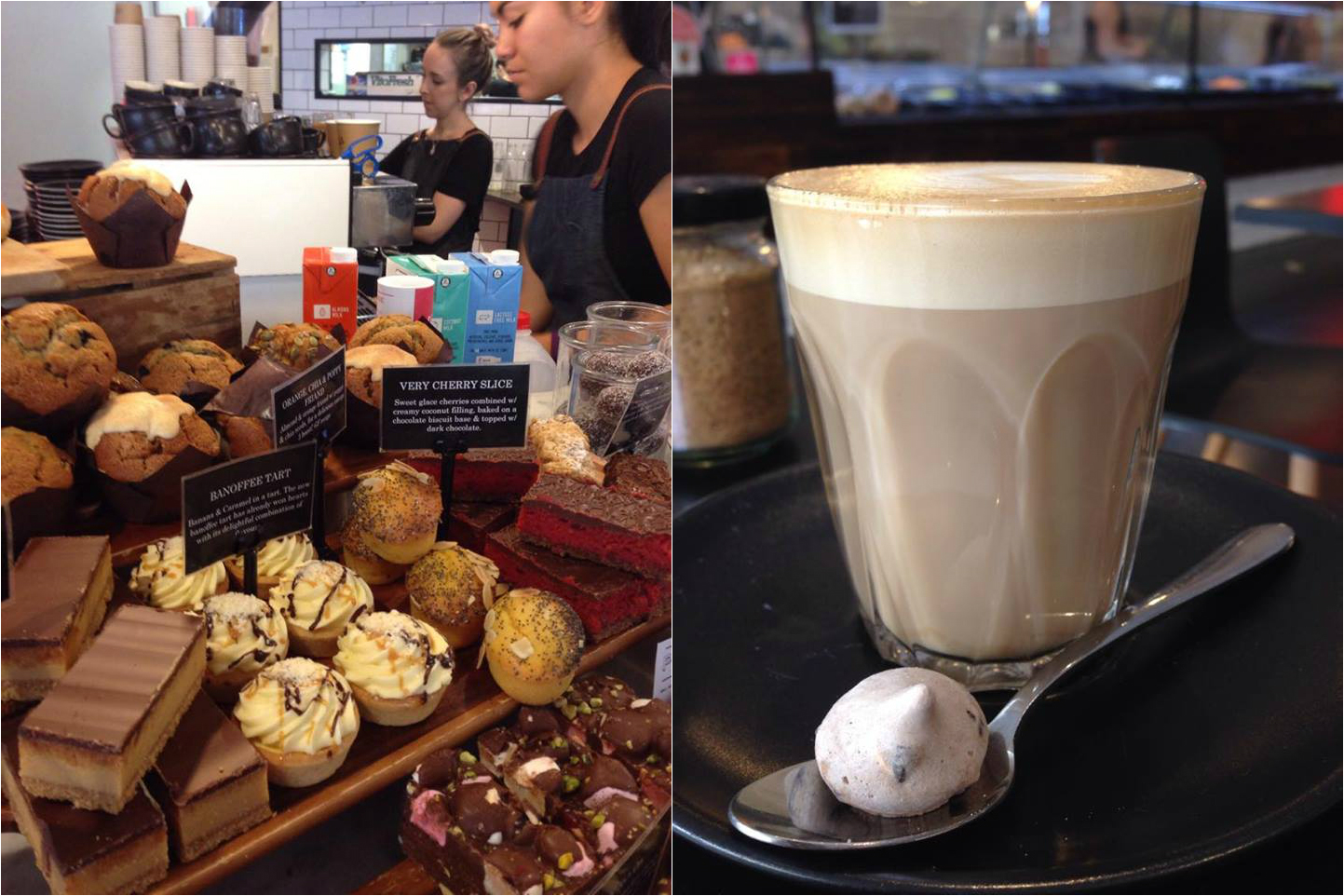 Famish'd might be closed at the weekend, but during the week it serves up some of the best coffee in this part of the city – and everyone leaves with a mini chocolate meringue. Try to visit when the Red Velvet Lamingtons are being dished up – you won't regret it.
8. Patricia Coffee Brewers; Corner of Little Bourke and Little William Streets, Melbourne City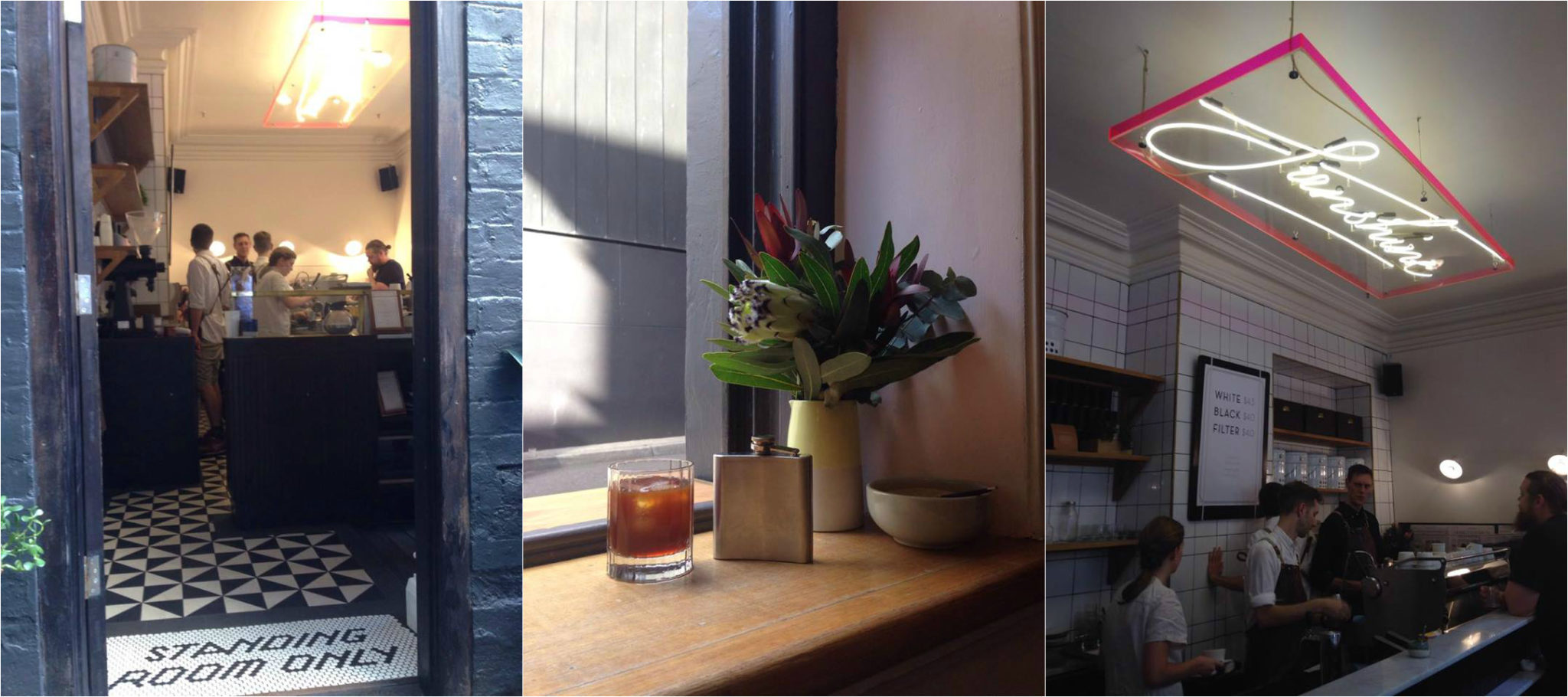 Like Stand Up Coffee, there's not much room to hang around here – but at least here you get to stand inside! The coffee is perfect, the staff are fabulous and if you make it back here in the warmer months, try the rich cold-drip iced coffee, served without milk and in a flask. (Closed weekends)
9. Pellegrini's Espresso Bar; 66 Bourke Street, Melbourne City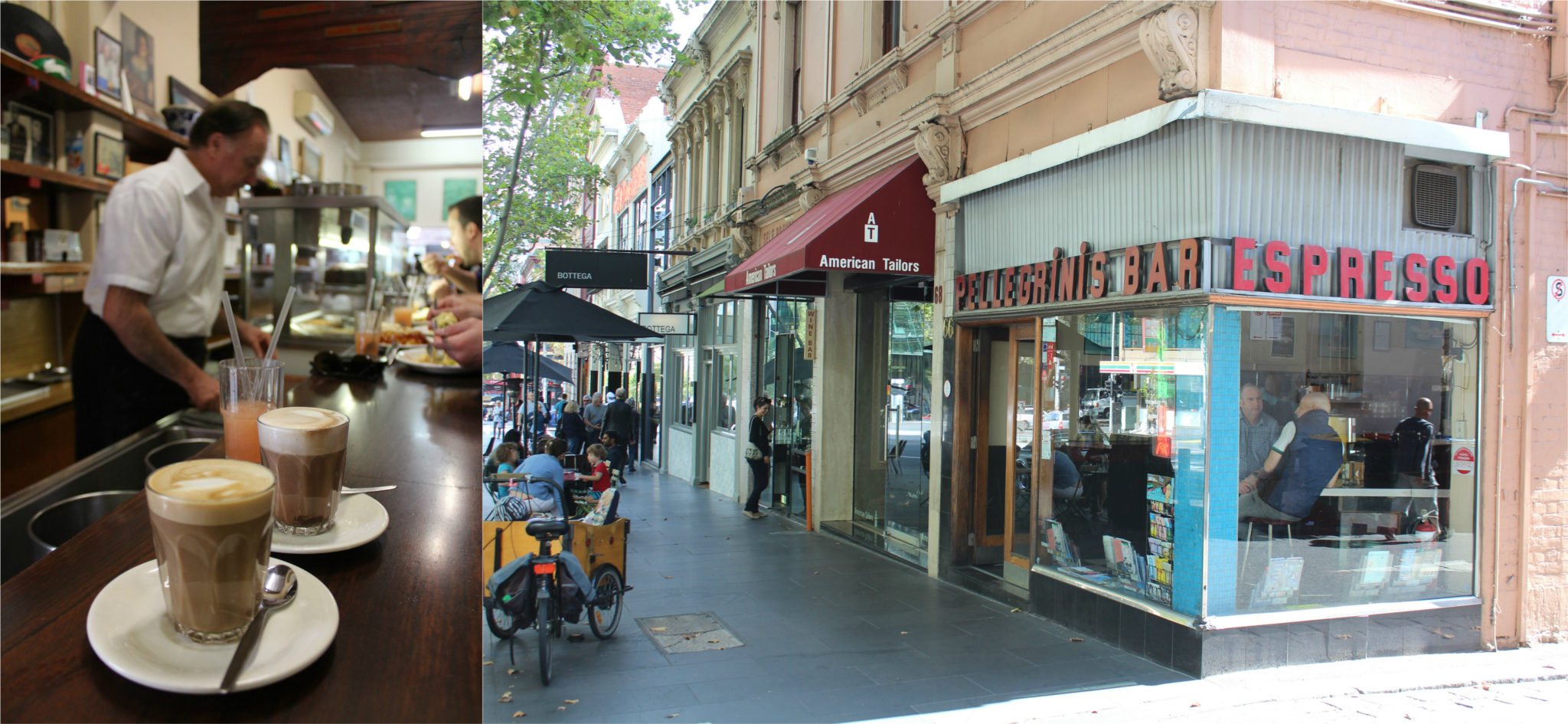 Go back to where it all started – Melbourne's espresso obsession. Whether it had Melbourne's first espresso machine or not is a subject of urban legend – but its iconic status can't be denied. Don't come here for the cushy service or surroundings – this isn't glamorous, this is Italian coffee served the traditional way, and they do it very well.
10. RMB Cafe Bar; 37 Degraves Street, Melbourne City
RMB is the pick of the lot on Degraves Street (although Andiamo's runs a close second) – the location on the corner is perfect for people watching, and there's a small inside section if you can't stand the cold. Oh, and they have Nutella donuts.
11. Cup of Truth, 12 Campbell Arcade, Melbourne City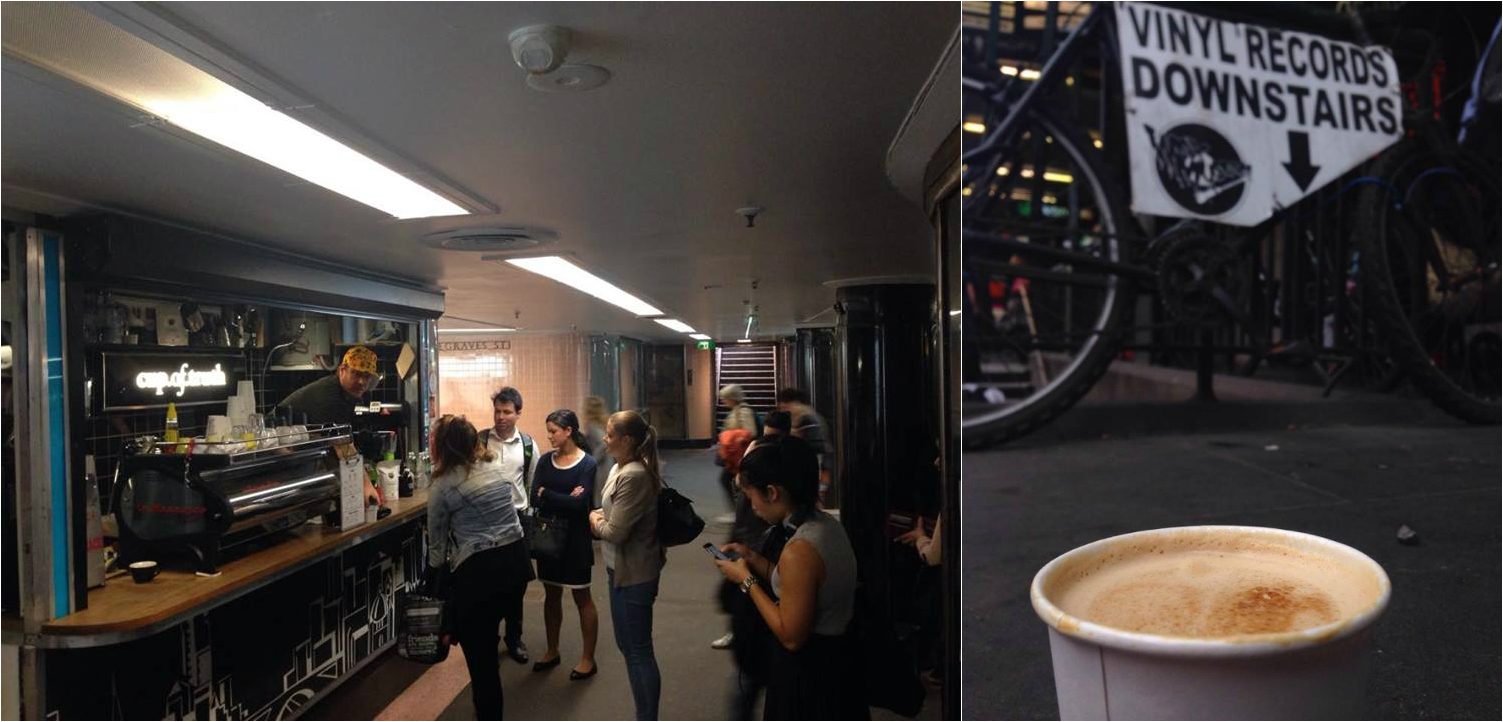 In the arcade below Flinders Street (which was built for the 1956 Olympics, apparently) sits a hole in the wall spot for commuters. Not just an awesome name, Cup of Truth serves great coffee too, as the hordes of weekday commuters will attest. (Closed weekends)
12. Captains of Industry; 1, 2 Somerset Place, Melbourne City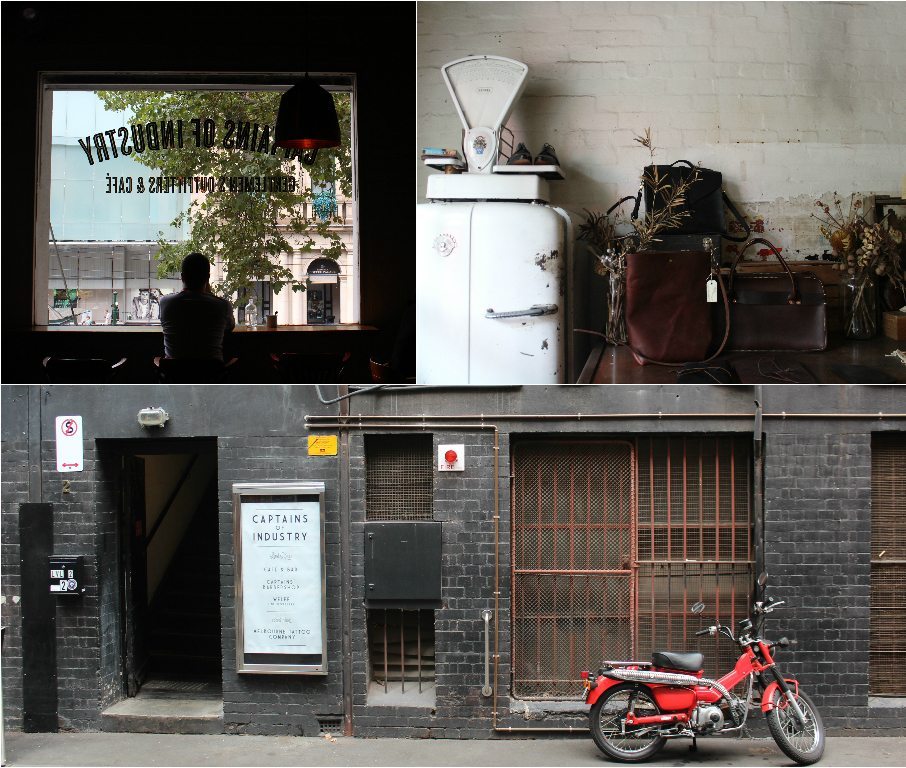 This place is oh-so-Melbourne it makes me want to vomit graffitied trams – and I love it. It's filled with disused machinery, and also features a barber shop where you can get your hipster beard trimmed. A simple menu, hidden away, but with widows looking over Elizabeth Street, this is the place to take a moment away from the city and let it all sink in.
13. Mart 130; 107A Canterbury Road, Middle Park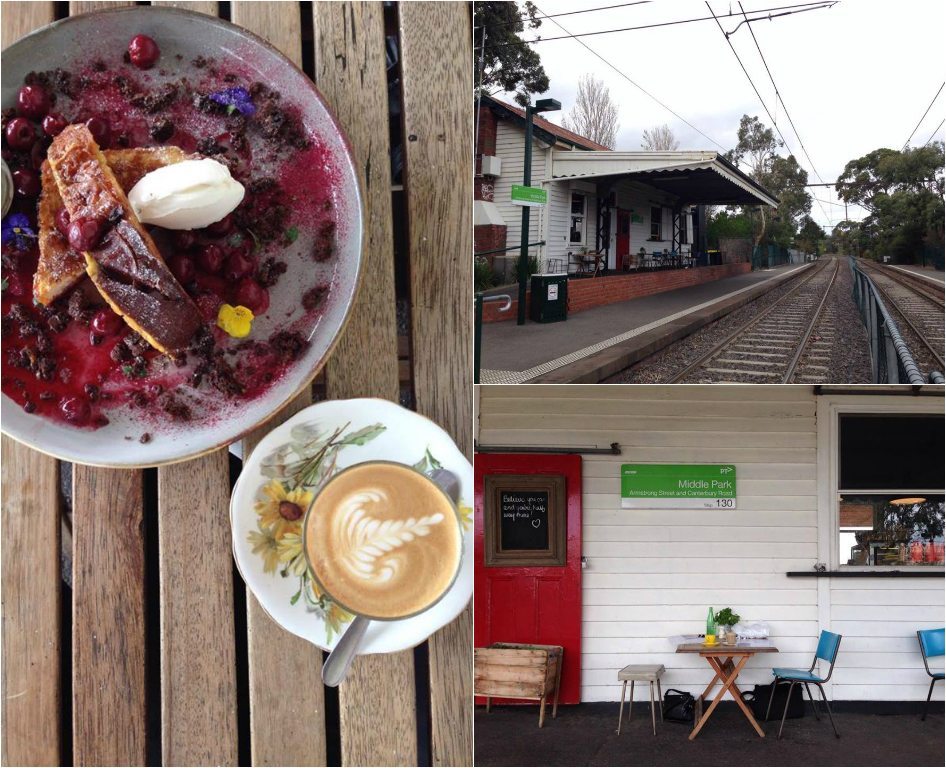 If the last place made me want to vomit trams, this place actually comes with them. On a terraced tram platform, you can watch the world (and the commuters) go by while tucking into good coffee and french toast smothered with berries and cream. We were offered blankets if we wanted to stick around for the novelty factor, but otherwise go inside the old stationmaster's building where you can keep warm.
14. Shisha Nights; 255 Swanston Street, Melbourne City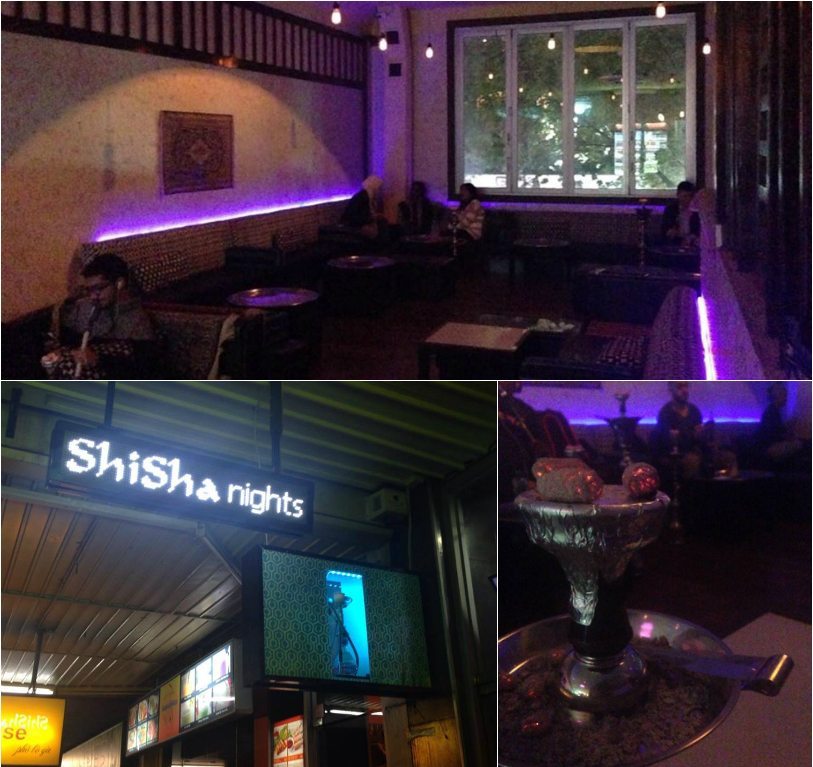 If French or Italian coffee is not your style, you might like Shisha Nights, the closest thing the CBD has to an Arabic style coffee-and-hookah bar. It's smoky, but in a sweetly flavourful way (Anyone who has been to an Arab country would be familiar with the wafting scent of apple tobacco). There's an espresso machine and a fridge with cold drinks, and unlike other sleek club-like shisha bars in the city, they don't serve alcohol – the atmosphere is unpretentious and relaxed. (Opens 6pm – 1am)
15. Ponyfish Island; Southbank Pedestrian Bridge, Southbank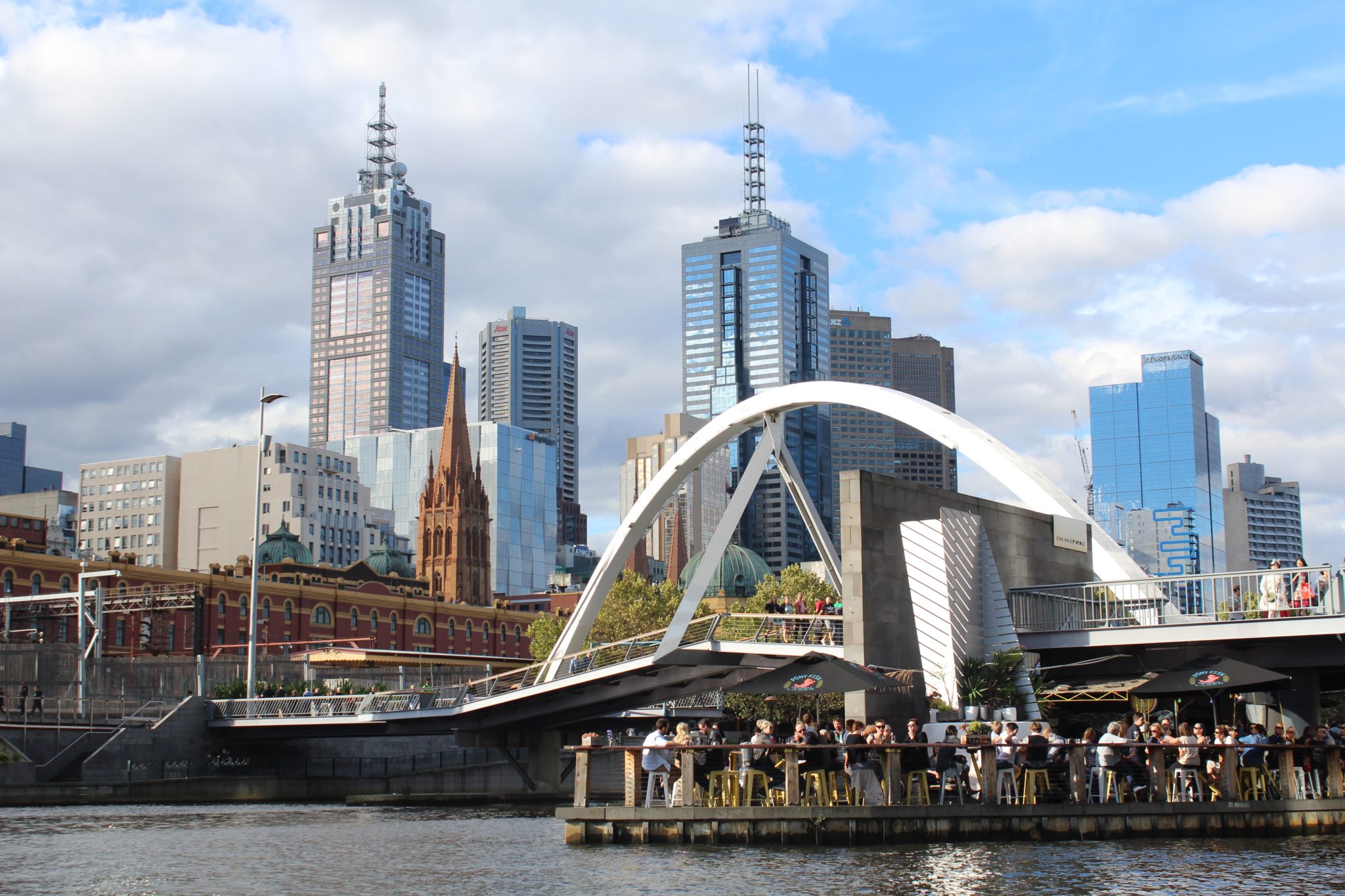 This might not be Melbourne's best coffee, and it's certainly not the cosiest place to sip your drink (especially when the wind is blowing – so, like, always), but the location can't be beaten. Before it becomes a bar in the afternoon, they serve coffee in the morning, so in winter its a great place to rug up, take a pen and your diary, and watch the light shift across the moody Melbourne skyline.
What are your favourite coffee spots in Melbourne? Have you been to any of these? Comment below!