Tim Blight
Delhi
Last week I wrote about my trip to Delhi in India, and the conundrums which make this amazing city. To begin to understand this conundrum, we have to go back to the start – and that start is at Chandni Chowk, or "Moonlight Place", one of modern Delhi's first thoroughfares.
Just down the road from the Red Fort, and around the corner from India's biggest mosque, Jama Masjid, Chandni Chowk is the heart of Old Delhi. This part of Delhi was originally built by Babar, the Afghan invader who waltzed into this area in the 1500s.
A descendant of Genghis Khan, he was originally from the area which is now Turkmenistan, but back then was controlled by Afghanistan. He brought with him Islam, although it was his grandson who really made Indian Islam what it is today. His grandson, Akbar the Great, ushered in a period of tolerance and understanding when Muslims and Hindus lived peacefully side by side.
Increasingly, Delhi was becoming an attractive place to live. Sanjeev Bhaskar, who I'm not really a fan of, once said something which caught my attention – that Delhi is actually a Muslim city living in the confines of a modern capital. It's quite true, and especially so of Old Delhi. Much stands as it always did – the clothes are washed near the river, the old dilapidated buildings are still in use, kebab sellers fan their products to keep the flies off and the faithful answer the five-daily call to prayer. Indeed, a bit like the Vatican in Rome, stepping into Delhi's old quarter is like entering another time. It's almost like a slice of Pakistan has been transplanted into India. However this area is integral to Delhi's identity not just as a Muslim city, but as a cosmopolitan city in the heart of "Hindustan" – India.
The Red Fort and its associated buildings did not disappoint – the white marble courts, the Pearl Mosque (just a name – not actually pearls!) and the rust-coloured fort walls have been wonderfully preserved. The main entrance is called Lahore Gate, as it faces west and used to signal the city limits on the road to that city (500kms away, now in Pakistan). Leaving the fort, I turned back for a minute to take a photo of Lahore Gate. If it wasn't for the tourists and the security guards, I could almost imagine the caravans heading out on the long road to Lahore, Kabul and Yazd.
Following the Red Fort, we did our legs in by climbing the minaret at Jama Masjid. Later, we held on to our wallets as we navigated the congested Churi Bazaar area.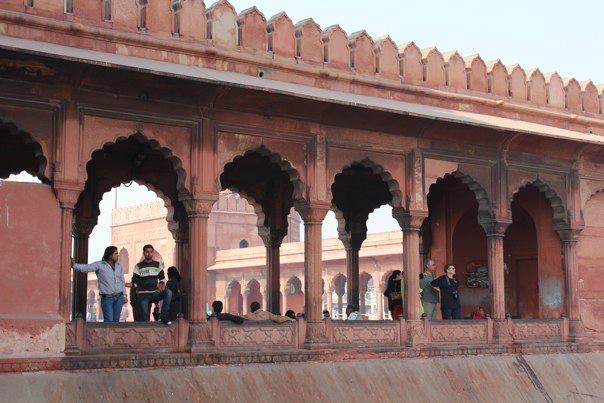 We jumped back on the air conditioned Metro and headed for the far south eastern suburbs where the Baha'i Lotus Temple is located. This magnificent white structure rises from a barren field reminiscent of Sydney's Opera House.
The sail design here, however, represents the petals of an unfolding lotus flower. Below it is a reflective pool, and the whole scene is rather symbolic for Baha'is, who believe that humanity is capable of rising above conflict and misery, just like a beautiful lotus can grow in a muddy stagnant pond. The Baha'i faith teaches love of all of humanity, and accepts that all religions are in some way true, but they simply get caught up on the insignificant differences.It was founded in Iran by Sheikh Baha'u'llah in the 1800s, making it a very new faith.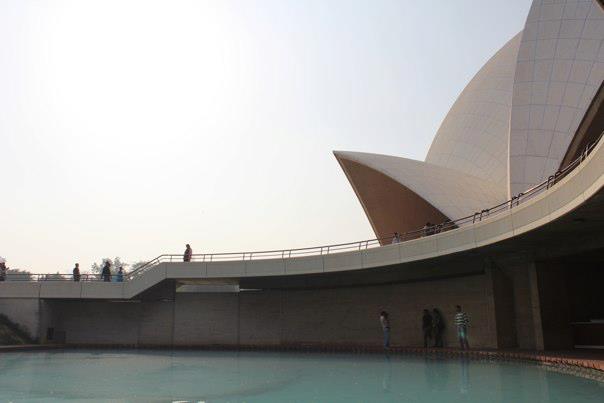 The interior of the lotus temple was cavernous, the roof soaring with its 'lotus leaves', and the chamber arranged in a semi-circle to represent an open forum of faith. Many visitors walked through admiring it, but Gordon and I decided to stay a while – the peace and quiet inside contrasted magically with Delhi's chaos outside. A couple of Indians sat on the outer ring of seats, silent in prayer. Were they Baha'i? I'm not sure – the very foundation of the Baha'i faith dictates that anyone and everyone is welcome to pray any which way they like at a Baha'i temple. According to Baha'u'llah, everyone is Baha'i – to be Baha'i is to know that underneath it all, we're really all the same.
Have you ever visited a Baha'i temple? How was your experience?