Tim Blight
Kandy
Kandy in Sri Lanka is the cultural heart of this surprisingly beautiful island nation. I visited during Christmas of 2011, and it left an indelible mark on my memory.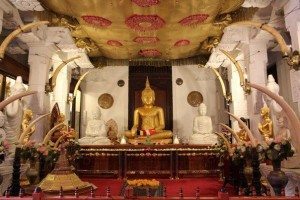 Although Colombo is the administrative centre of Sri Lanka, Kandy is the nation's Buddhist heart. About three hours drive inland, this was once the capital of the kingdom of Lanka, before the British arrived. It's Sri Lanka's second biggest city, about 500m above sea level, and a world away from Colombo. Densely forested hills ring a narrow valley where the city lies. It's as if a giant hand-sprinkled buildings from above, and they trickled down, filling the cavities and grooves in the undulating terrain. The mountain ranges are largely untouched, while the valley floor is all urban, except for Kandy Lake. This artificial lake was built in 1807 by King Sri Vikrama Rajasinha, the last king of Kandy. It dominates the city centre, and can be seen from all around. Just beside the lake lies the Temple of the Sacred Tooth Relic; a shrine built around what is believed to be a tooth of Buddha. Buddhists, and Sri Lankan Buddhists in particular, believe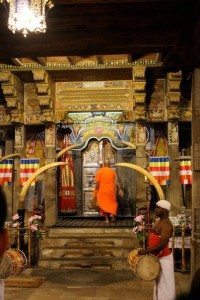 that the tooth was rescued from Buddha's cremation fire and housed in India until the fourth century, when it was brought to Lanka. Although Portugal invaded, stole and destroyed the tooth in the 1500s (they were trying to convert Sri Lanka to Catholicism), Sri Lankans maintain that they only stole a dummy, and that the tooth in the shrine today is the original. Whether it's the original or not doesn't really matter to the non-Buddhist, non-dentist tourist, because you don't actually get to see it – it's kept within a seven-layered pure-gold casket.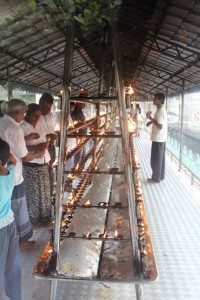 The building is stone on the outside, but carved wood on the inside. Orange-clad monks walk the floor, and pilgrims crowd the centre in prayer. At 6:30pm, when the casket goes on display for the night, the hall is full of people all pushing to see the holy relic. Drummers announce the beginning of the nightly
 pooja 
(devotional prayer) with loud beats and an eardrum-piercing trumpet. By the time the ceremonial details were over, the curtain was drawn back to display the tooth's casket. I was halfway through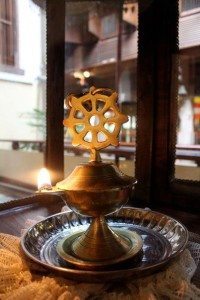 the queue, and guards kept it moving so no-one spent more than five seconds looking through the small window which reveals the golden piece. Although very beautiful, and incredibly radiant, the experience was somewhat spoilt by the frenetic atmosphere. Not so, apparently, for the hundreds of Buddhist pilgrims – some monks but mostly regular folk – who were given the chance to stand near an actual piece of their deity.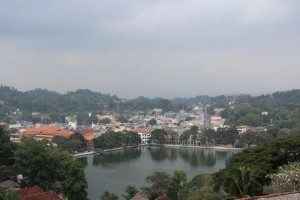 Unfortunately, the rest of Kandy is not the nicest place on earth. As could be expected being the second biggest city in the country, it is also an urban centre with its fair share of problems. Lots of touts, tourists, traffic and mangey dogs are noticeable around the lake area, although all I had to do was leave the lake for one of the mountain-side streets to avoid this. My guidebook listed a cold drink and a good book at sunset as one of Kandy's main attractions, and arriving back at my hotel hot and dusty I could see why. Sri Lanka produces its own ginger beer, along with grape soda (yum) and very very smooth tasting creaming soda. I wished I could've had a week of sunsets at Kandy! I easily could've kept going back and forth from the temple and my hotel, taking in a bit of the city at a time.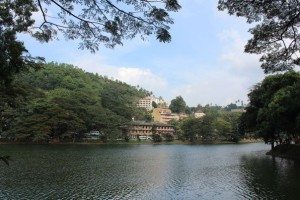 The next day I took a walk around the mountain-road near my hotel, and ended up walking through the pretty, colonial-era Wales Park, parts of which afford lovely views across the lake. On the way out of Kandy, I also stopped past the pretty Botanic Gardens, with their perfect rows of palm trees and colourful flower beds. There are more beautiful places in Sri Lanka, no doubt, but Kandy presents the opportunity to see Sri Lanka's devout heart in action in a setting fit for a king.
When to go
December and January. It won't be too rainy, or too hot. The other end of the year can be oppressively hot and humid.
Essential Stats
Culture shock: 8/10
Language difficulty: 6/10
Quality of food: 8/10
Cost: 5/10
Physical demand: 7/10
Advice and warnings
The usual precautions apply – no walking alone at night if you can help it, keep a close eye on your valuables, etc. Be aware of pickpockets, especially in crowded places.
Check Smart Traveller or the British Foreign Office for more comprehensive warnings.
Visas
Before visiting Sri Lanka, all nationalities (except for Singaporeans, Maldivians and Seychellois) must complete an online 'Electronic Travel Authorization', or ETA. This can be done through this website. Indians, Pakistanis and other SAARC nationals pay US$15, while Australians and others pay US$30.
Getting there and around
From Chennai, Sri Lankan Airlines flies to Colombo daily. Flights start from INR 11,093 return.
From Melbourne and Sydney, Malaysia Airlines flies to Colombo via Kuala Lumpur.
Melbourne (from $1437 return)
Sydney (from $1455 return)
Since direct flights between Pakistan and Sri Lanka ended, Emirates provide the best connections from Lahore to Colombo. (Although not direct, other options would involve an Indian transit visa, along with all the hassles that would entail for a Pakistani citizen). Return flights start from PKR 97,179.
From Colombo, a buses cost around 300 Sri Lankan Rupees for the one way trip to Kandy, and a private taxi would be around 6000 Sri Lankan Rupees for the day.
Accommodation
I stayed at the cheap and cheerful Blinkbonnie Tourist Inn. A more upmarket option is the Cinnamon Citadel Kandy, part of a high-end Sri Lankan hotel chain.