Tim Blight
The Pamir Highway from Dushanbe to Khorog
One thing I love about Central Asia is its tendency to make me wonder about life and its meaning. A journey towards the Tajik city of Khorog rattled my bones, and took me along the Afghan border where I got to thinking about fate. Here, deep in Central Asia, many of the secrets of the regions are yet to surface…
I arrived in Tajikistan's tidy and leafy capital Dushanbe and headed straight for the bazaar from where shared jeeps depart for the gruelling 18 hour drive to Tajikistan's mountainous Eastern province of Badakhshan. Arriving at the bazaar, I was promptly assailed by an excitable driver named Mahmood who flashed a golden smile thanks to gold caps across his choppers (a fashion trend amongst older Central Asians, universally despised by more modern, educated locals).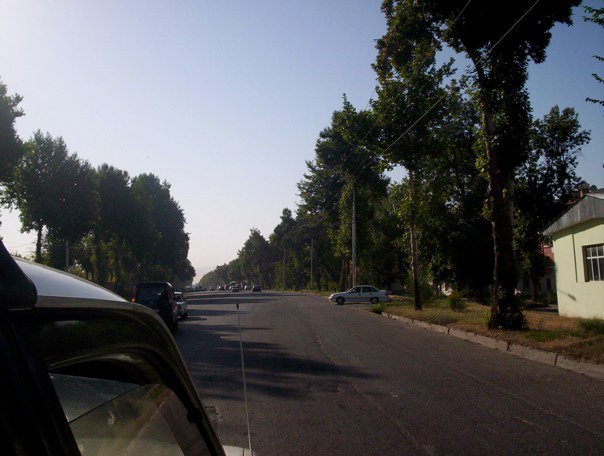 If Tajikistan doesn't really conjure up any images in your mind at first mention, then you're not alone; here's a snapshot. Tajikistan is like Iran's poorer, rural cousin. The language, Tajik, is almost the same as Farsi, although Tajikistan has been cut off from Iran for years by Soviet occupation and that little issue of Afghanistan which sits neatly between them. Today, the Tajiks are some of the most charming people you could hope to meet – if Iran is the urbane, educated gentleman, then Tajikistan is the likeable, laid-back country twin.
The jeep seemed to take forever to fill up (they hit the road once they've filled up with passengers) and so I searched for some breakfast. In the bazaar, an old man with a white beard and a kind smile sold me a packet of biscuits – "they're imported from Russia" he said – obviously that still carries some weight around these parts. I went back to the jeep and, as if summoned by some invisible power, all our passenger converged on the vehicle at once and we were off. My fellow travelers included the camp Akhmed and Makhsoom, Alim (who resembled a slightly Asiatic Paul McCartney circa 1960) and his sister in law Yorsemin and another lady who had brought along some of her home-made chocolate and apricot rock cakes to share for the journey.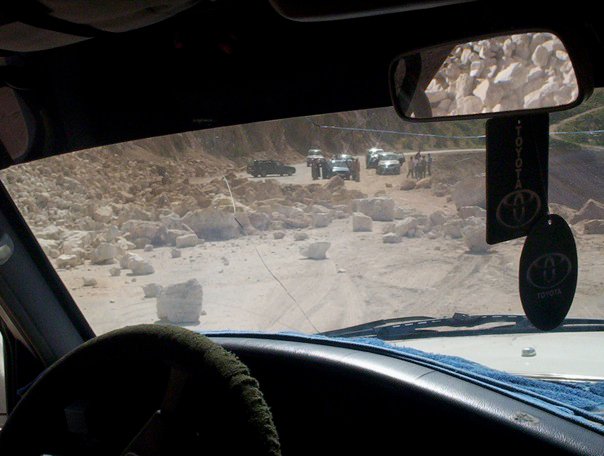 After encountering a rockfall just out of Dushanbe, the road was cleared and we made our way through the paddocks of Tajikistan's lowlands and the baking hot sun. Lunch was had at a tiny chaikhana (teahouse) where we had vegetable soup, fresh bread and home-grown watermelon, all washed down with a small, shallow bowl of green chai.
We watched a bit of TBC, Tajikistan's national broadcaster, which seemed to be dominated by unevenly matched boxing tournaments between the 'stans, and a curious Russian version of 'The People's Court' (a bit like Judge Judy).
After lunch we began our ascent into Tajikistan's knot of mountains. The road climbed, gradually deteriorating from a 3-lane highway to a jarring, corrugated gravel 'highway' (!). We continued upwards through barren peaks until finally breaking through to the Pyanj Valley, defined by the Pyanj River which marks Tajikistan's border with Afghanistan.
We descended to the valley floor and began traveling along side the river. The other side of the river was, of course, off-limits, but at times Afghanistan was less than 100 metres away – it seemed close enough to reach out and touch it. The mountains behind it are jagged, snow-capped peaks of up to 7000 metres. These are the mountains over which the Soviet Union launched their 1979 invasion of Afghanistan – and failed.
In search of safety during the Tajikistan Civil War of the 1990s, a few Tajiks crossed the river and cobbled together hovels on the knife-edge strip of land between the mountains and the gushing river (because back then, that part of Afghanistan was safer than Tajikistan). As night fell, and we stopped for dinner at a little Tajik diner, we could see the flicker of fire-light in the windows of these people's homes, a haunting reminder of how the tables have turned on the tragic country just metres away.
The tables were starting to turn on me as well; after four long days of travelling, I needed to sleep horizontally for one whole night. I girded my loins for then final two hour haul to Badakhshan's largest city, Khorog, but eventually gave in after 30 minutes. I checked into a hotel in the tiny village of Roshan and slept the sleep of the dead.
Roshan might be Shangri-La. I woke up, looked out of my window and craned my neck to see the top of the breathtaking mountain before me. The lush paddock at the front of the hotel, earlier hidden by the darkness of night, was now glistening dew, punctuated only by a natural spring which gushed into the river at the end of the road. Flowers were in bloom, and trees rustled in the gentle breeze. Soon after, a local girl came and introduced herself as Katya and brought breakfast.
Like many people in Badakhshan she had fair skin, green eyes, brown hair and wore a long, colourful silk dress. We sat there and discussed everything from life in Melbourne to her plans to open an English Language school in Roshan. Her brother was getting married at the hotel that day and she invited me along to which I politely (and reluctantly) declined due to lack of time and not wanting to impose. She then told me that a friend of hers could drive me to Khorog, completing the previous day's journey, which I gladly accepted. Gustav (yes – we're getting into Borat territory here!) turned up in his Vectra and after speeding through lush mountain valleys amid soaring snowy peaks, 90 minutes later we entered the city of Khorog to the strains of Lady Gaga's "Bad Romance".
Central Asia never fails to surprise.
What's the most remote place you've been to? Comment below!