Tim Blight
UrbanLegends: Nick and Dariece love Guanajuato!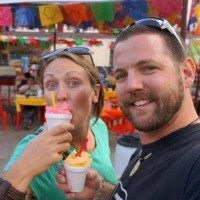 Nick and Dariece are the couple behind Goats On The Road and the bi-weekly column on Credit Walk. Their website is designed to show others how to turn their travels into a lifestyle. Masters at making money abroad, they've been on the road since 2008 and have explored some of the least visited places on earth, finding adventure wherever they go.
And now, they're UrbanLegends! Meet Nick and Dariece and find out why their favourite city is Guanajuato, just to the north of Mexico City.
What is your favourite city in the world, and why?
This is a hard one because we've been to some fabulous cities over the years, but we'd have to say Guanajuato in Mexico, a city we recently visited. The buildings are all brightly coloured and there are narrow lanes zigging and zagging up the mountainside. The architecture is stunning, there are many pedestrian-only streets and there's loads to do, but the main reason has to be that it's so picturesque.
When did you first visit the city, and what was your experience like?
We were just there in January and spent 5 nights in the city, which wasn't nearly long enough. Our days were spent strolling around visiting beautiful buildings and relaxing in lovely plazas. We ate everything in sight and enjoyed the views of the mountains. There was live music on the streets and something new and exciting to see around each corner.
What is your idea of a perfect day in this city?
A perfect day would have to be breakfast at the Tal Cafe with their incredible hot chocolates and coffees, followed by a wander through the markets and plazas. In the afternoon, visit the museums and churches before having lunch at one of the many delicious local food stands on the street. Take the funicular up the mountain for incredible vistas over the city before walking down to see the Alley of the Kiss. Have dinner at the Santo Cafe with lovely seating on a bridge. After dinner, take in a show or symphony at the theater, followed by late night drinks at one of the many bars.
Ah, Guanajuato!
What is your favourite place to go/thing to do in this city?
We loved wandering around the lanes and getting lost. We ended up finding hidden plazas and met lots of friendly people. You're never truly lost, as the main town is at the base of the mountain, so if you're going up, that's the wrong way to town!
Do you have a special memory attached to this city, and what is it?
We went to our first symphony together while in the city. It was in a lovely, historical theater, that was a nice night for sure. We also met up with fellow travel blogger and legend, Tim Leffel and had a couple of fun nights with him and his wife.
What's your favourite place to eat in this city, and what dish is your favourite?
Any of the street vendors are great. We actually went on a food tour here and learned all about the great local street food. You can check it out here. Make sure to try the gorditas and tamales!
Is there anything you don't like about this city? (be honest!)
The only thing that we don't love about the city is that it's not close to the ocean, we're water people, so that's a negative for sure.
If you could sum up this city in a word, what would it be?
Vibrant.
If you loved this interview, why not connect with Nick and Dariece through Goats on the Road! Follow them on Twitter, Facebook and YouTube.