Tim Blight
Tashkent, Uzbekistan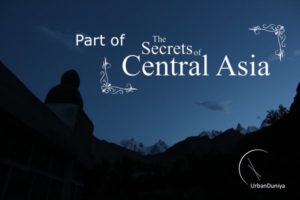 Tashkent is kind of the capital of Central Asia. Obviously it's the capital of Uzbekistan, but it's also the largest city in Central Asia, and is sort of a regional capital. For years Tashkent was the principle crossroads and market town of the silk road. In the Soviet years, Tashkent was the fourth largest city in the USSR (after Moscow, St Petersburg and Kiev). But in 1966 the city was levelled by a massive earthquake, and much of its history was consigned to become more secrets of Central Asia.
So besides the fact that all roads lead to Tashkent, what took me there? The answer is simple; I had two days to kill while my Turkmenistan visa was processing. Luckily for me, my hotel (the Hotel Rovshan) was not far from the embassy.
So what does one do with two days in Tashkent, a city whose remaining visible history dates from the 1960s? Does one search for whatever skerrick of history remains? Or does one simply try and appreciate the city for what has been built since?
I opted for the second, and was rather satisfied with what I got. Despite its lack of obvious historical monuments, Tashkent is 100% Central Asian metropolis. It's busy, unlike laid-back Bishkek. It's hot, set out in the plains of Uzbekistan. It's filled with a fair dose of weirdness, a hangover from being a Soviet backwater. It's filled with markets, taxis, wide roads and dust. And although nothing is more than 50 years old, the streetscape is infused with enough Muslim sensibility to be recognisable.
Tashkent Tower is, by all appearances, one of those Soviet erections whose symbolism was far from subtle. It stands as Tashkent's most recognisable icon, at the northern end of the city centre.
When the Tashkent was destroyed by the 1966 quake, Soviet engineers with their counterparts from around the eastern bloc redesigned the city. One of the things that the Soviet Union was good at doing was constructing underground railways, and the Tashkent Metro is a handsome example. Chandeliers light up the platforms, and the floors and walls are all marble – no expense was spared, it seems. Unfortunately no photos are allowed in the Tashkent Metro, so the picture below is a rather unimpressive one from Wikimedia Commons.
Out and about, Tashkent is occasionally a pretty city; there are tree-lined boulevards, museums, and parks. But ultimately, I was only there to collect a visa; and late on the second day that's exactly what I did before leaving.
Have you ever gone somewhere just to collect a visa? How did you entertain yourself? Comment below!