Tim Blight
Sydney Metro
This is part three of Building Sydney; an ongoing series on UrbanDuniya about major infrastructure projects in Australia's largest metropolis.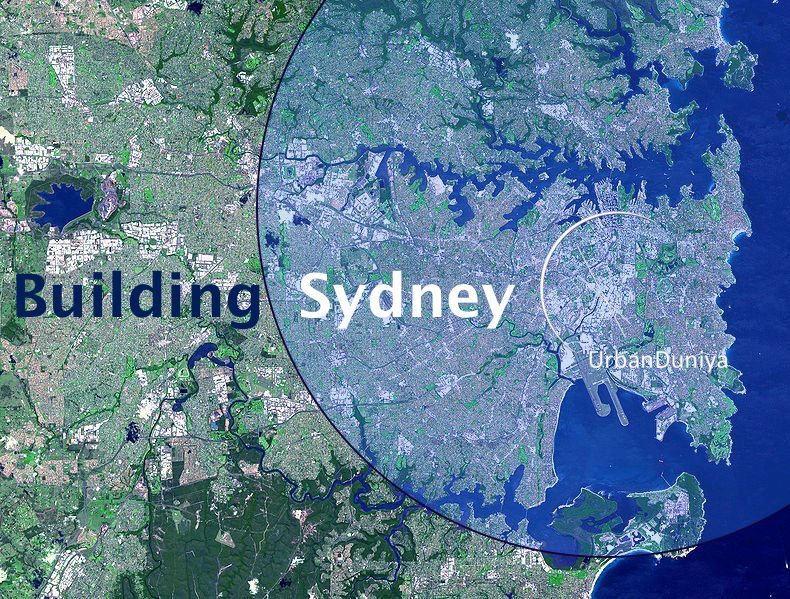 Anyone who has travelled to the major cities of Europe or Asia would be familiar with the excellent rapid transit systems that efficiently transport hundreds of thousands, or even millions of people daily. Sydney's existing double-decker train system, while somewhat effective, cannot be considered a true mass rapid transit system due to the operating constraints of large carriages, relatively low frequency, and antiquated network that was built according to topography, not demography (the North Shore Line's scenic but useless detour via Wollstonecraft and Waverton being a case in point).
It is perhaps inevitable that Sydney would eventually build a metro system like that of Singapore or Delhi, that accurately serves population centres where its needed, and provides fast rapid connections between suburbs (notably, not just to the city centre). The beauty of a metro system is that it to the local populace, it becomes a more attractive option than taking the car for short hops, or even longer ones across the congested heart of the city. Connections are easy – you're never too far from a station above ground, nor too far from a interchange below ground, meaning that you don't always need to "change at Central" to get from one part of the city to another.
The current proposal for the Sydney Metro is initially a line from Cudgegong Road in Rouse Hill, 50 kilometres north west of the CBD, to Epping and then along the existing Macquarie Park line terminating at Chatswood, where passengers could transfer to the North Shore line. Long term, the line would be extended below Crows Nest, under the harbour, past Central station, then joining a refitted train line to Bankstown.
Certainly a worthy project, but one that seems to be heavily integrated into the existing rail network; one hopes that measures are being taken to prepare the North Shore, Inner West and Western lines for the influx of passengers transferring from/to the new Sydney Metro.
Metro lines are successful in cities like Singapore and Paris because the urban footprint that they cover is not as large. Metro trains are high capacity, fast, frequent, and feature few seats because they're not designed to be comfortable; they're designed to move huge numbers of people quickly and with no fuss – standing room only, step on and step off.
Metro trains therefore are a great idea for short trips – ones which really don't require a car, but are too long to do on foot. A developed network also offers opportunities to transfer between lines and even modes of transport, so no-one is standing in one place on the carriage for too long. So is the 50 kilometre trip from Cudgegong Road to the CBD one that many commuters would like to undertake standing in a high-capacity carriage? (Considering that the only real opportunity to interchange would be with the Northern Line at Epping). Rather than stepping on and off, the carriage would continue to fill throughout the journey.
Surely, the frequent Sydney Metro system would make much more sense on the high-patronage Chatswood – Sydenham corridor, with the double-decker "Sydney Trains" carrying passengers out towards the more distant Cudgegong Road? (Much in the way the more cushy long-distance Sydney Trains are equipped to carry passengers to Newcastle and the Blue Mountains.)
In fact, a complex network criss-crossing Sydney's inner city, with several lines aiding short trips between existing corridors, would alleviate much congestion, both on the roads and at existing interchanges like Central station. Why not metro lines between the inner west and the eastern suburbs, bypassing the CBD? Lewisham to Marrickville without having to change at Central station? Leichhardt to Crows Nest, but not via the CBD? Some of these ideas were mooted and then dismissed as part of a 2002 report into Sydney transport needs, known as "the Christie proposals".
There's a reason why Paris' and London's metro systems are world renowned, and that's because they effectively serve their inner cities and have appropriate connections to the outer suburbs. They comprehensively cover an area which in Sydney would perhaps be bounded by Hurtsville in the south, Bankstown and Parramatta in the west, and Epping and Chatswood in the north. They don't require people to stand in sardine-like conditions for 50 kilometres or more, emulating trips in metropolitan Singapore when they're actually careering through the expanses of the Cumberland plain.
Sydney Metro Northwest is currently under construction and is expected to be operational in 2019. For more information, go to sydneymetro.info.
What do you think of the Sydney Metro? Is it needed? Comment below!