Tim Blight
Goa
This post recounts a trip I made to Goa, India, in April 2012.
After an overnight train from Kochi in Kerala, I arrived in Margao at 4am and then got a taxi to the state capital of Panaji (formerly Panjim). If Kerala was relaxed, Goa was flat-out lazy; in fact, Goans have a word for it in their local language Konkani. Sossegado means 'laid-backness', and in Goa, it's an official way of life. I grabbed a coffee (mandatory for me to function) from a local coffee shop which was full of patrons at 5:30am. Great, I thought – breakfast before 8! I sat there, sipping my coffee, until about 6, when I asked for the menu. I was given the dinner menu, and told that they would be closing up soon. It took a while for it to dawn on me that at 5:30am I had walked in on their dinner service, which was STILL GOING! Breakfast would be served at 10, I was told. I decided to fill up on coffee and then sit by the Mandovi River for a spectacular dawn.
At 9am, which already felt like ages later, I hired a motorscooter to traverse the small state of Goa. Goa is one of India's smallest states, and the result of Portuguese colonisation which lasted from 1505 to 1961. Panaji is a small city, and a fairly unremarkable place except for its European architecture. This is exemplified by the Church of Our Lady of the Immaculate Conception, a gleaming white wedding cake building in the city centre.
The Portuguese influence is everywhere to be seen in Goa, from street names to the cuisine. In 1961 India prepared to send troops into Goa to liberate it from Portuguese rule. On 19th December that year the Indian army marched into town unimpeded – after military skirmishes in previous days, the Portuguese quickly signed control over to New Delhi. Soon after, Goa became an important node on the hippy trail in the 1960s and 1970s, as India became the place to connect with one's inner self.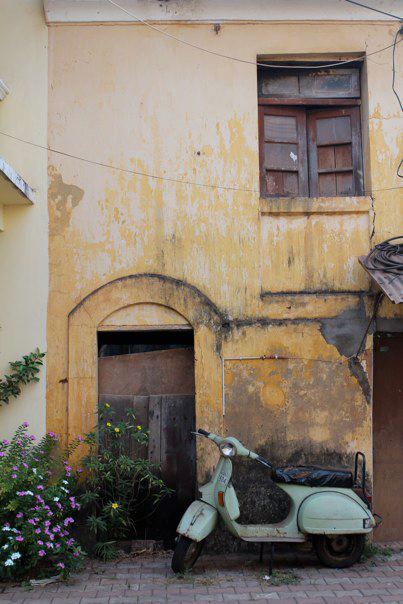 Thanks to the Portuguese heritage, Goa was the part of India with the most lenient laws regarding liquor, drugs, sex and clothing – so when life in Rishikesh ashram became too austere, the tourists headed to Goa to party on the beach and practice 'sossegado'. I spent Tuesday riding up and down the coastline on my scooter, swimming at palm-fringed beaches and eating at restaurants whose dining rooms convert to rave parties after 11pm.
Away from the beach, and occasionally at the beach, Goa was a bit scrappy – it looks like it's had its day, yet overdevelopment is rampant. The town of Calangute was a bit gross, however other places like Sinquerim beach were pockets of beautiful solitude.
In the afternoon I sat on Miramar beach and watched the sun set from under the palm fronds. A spaghetti dinner was finished off with bebinca, a traditional Goan dessert which perfectly represents the fusion of Portuguese and Indian cultures. In this delicious cake, eggs are scrambled with coconut milk, butter, sugar and flour; semi-cooked, and allowed to set in a layer on the bottom of a dish. The layer is dusted with nutmeg, then another layer of coconut eggs is poured and let to set. The process is repeated up to ten times, creating a layered dish. Because the primary ingredient is egg, the recipe calls for 40 of them, and each layer needs to be prepared individually, making it a time consuming process. And it's worth every bit of it – look for a Goan or Portuguese restaurant (you're more likely to find the latter) in your city to try one. Don't worry about cholesterol – at 40 eggs per cake, you'll only be served a slice!
Wednesday morning I jumped back on the scooter to explore Old Goa, the capital of the Portuguese colony from 1505 to 1759. It was once bigger than either London or Lisbon – home to 200,000 people and soaring Catholic cathedrals. It lead people to call Old Goa (or Goa City, as it was then) the 'Rome of the East'. It was almost completely abandoned in the 1700s though when cholera and malaria swept through, killing thousands. However the city was never destroyed, only vacated, so what remains are streets lined with massive European-style cathedrals which are slowly crumbling.
Old Goa is a veritable ghost town, populated today by the throngs of tourists and devotees who visit. Goa is still a very Catholic state, and although they aren't a majority, Goan Catholics still hold much importance in the region.
Have you been to Goa? What did you think of it?