Tim Blight
"Scammed" by Hertz in Salzburg?
My recent visit to Salzburg in Austria was tarnished by a one-day car rental from the Hertz licensee on Ferdinand Porsche-Strasse, near Salzburg's main railway station.. Looking back on it, we really left ourselves open by being too gullible and careless. In fact, so careless with some of the crucial minor points that this almost isn't a scam – but just a very simple and expensive trap to fall into. My intention for publishing this account is in the hope that others don't fall into the same trap.
The pretty lakeside village of Hallstatt is less than 100 kilometres from Salzburg, Austria's fourth-biggest city. We had decided to rent a car from Salzburg for the day – Hertz had the cheapest rate, and having had a good experience with Hertz on a previous trip through Europe in 2013, we went for it. The smallest (and cheapest) automatic available was a "Mercedes A-class or similar".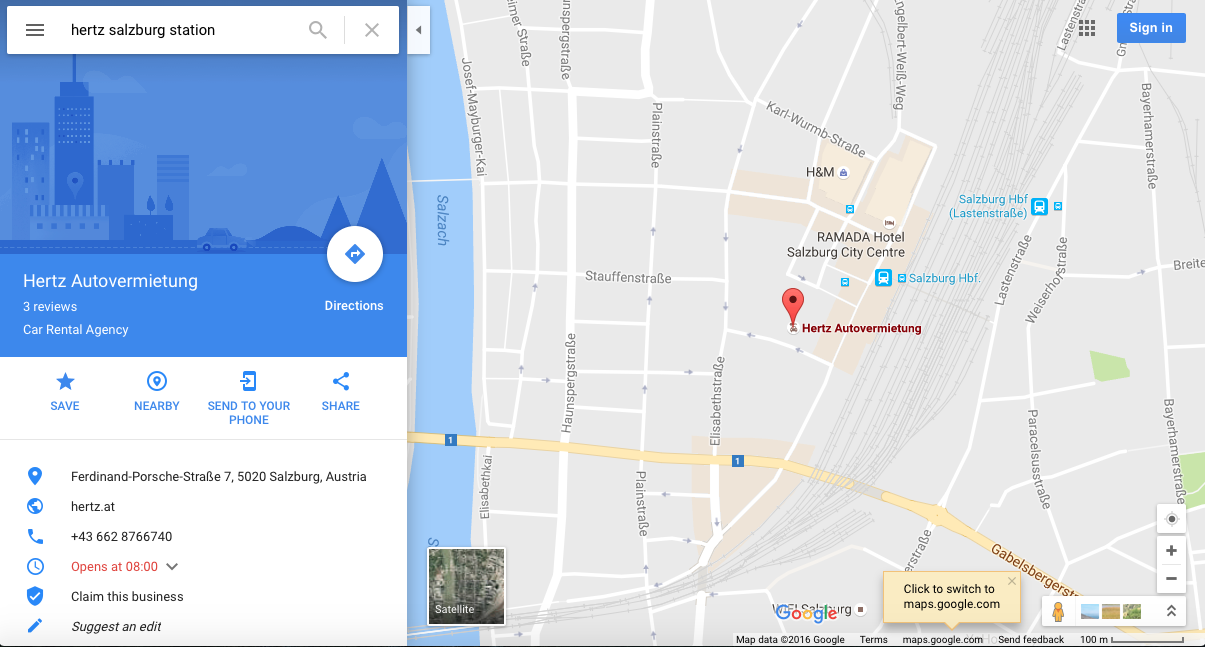 So when we arrived at the rental desk and presented our booking to a young Hertz representative, we were given a choice of a Citroen (the 'similar' car), or an upgrade to a BMW convertible at a small additional fee. Enter Mr Hofbauer, the manager of the Hertz branch, who started talking up the option of the BMW convertible.
Considering we were only driving for the day, we insisted on the original booking with the Citroen, to which Mr Hofbauer seemed rather disappointed. "The BMW still has four seats in it, you can pick up some girls on the way…" he suggested. Sleazy. Mr Hofbauer then left the desk, and his younger colleague commented "actually, the Citroen's steering is a bit wobbly, I think you should go for the BMW…".
Mistake #1 – stick to your original plan. Don't be sweet-talked into getting something you don't want or need.
We were then offered "basic" and "super" cover insurance on the car rental for the day, and were told that while the basic cover for the Citroen would cost an additional €15, it would be included on the BMW. The super cover would be an additional cost on either car. The BMW was approximately €20 more than the Citroen, so we would be effectively getting a better car for just €5 more. We looked at each other, thought "why not?", and went for it – hook, line and sinker. Mr Hofbauer returned to the desk, seeming decidedly upbeat, and announced "it's a great car – you'll like it – I'll go and get it now…"
My friend had booked the car through a corporate portal, meaning that we received a discounted rate anyway – so we thought we were winning. However at the last minute, just before we collected the we were told that the super cover had been declined because we had booked with a corporate rate. "So what about the insurance, then?" we asked. "That's all to do with your company and this corporate rate – they might have their own thing. For us, it's just been declined. That's all we know. We will put a €1000 hold on your credit card instead, in case something happens."
Mistake #2 – Assume (and believe) nothing. As far as we are now aware, this is a lie – another car rental through Hertz a few days later was booked through a corporate rate, and was fully covered by both "basic" and "super cover". We (stupidly) assumed that it had been declined in this instance because we were covered by the corporate rate.
We went outside to collect the car, and Mr Hofbauer had parked it on the side of the road (I'm not sure, but it didn't appear legally parked to me) and handed us the damage report. 5 items were listed, including scratches to the front and back bumper, a dent on the back, and a scratch on the side. I walked around the car hurriedly to check the damage – however I didn't take nearly as much care as I should have, because it was parked illegally and, to be perfectly honest, because my mind was in other places – we were on the side of the road in a foreign country, about to drive on unfamiliar roads in a car that I hadn't bargained on getting. Stupid me.
Mistake #3 – Don't let yourself get rushed or caught up in the moment. Take your time, check any damage carefully and photograph or video everything.
Off we drove to Hallstatt, had a great, incident-free time despite some miserable weather, then drove back to Salzburg by about lunch time. Mr Hofbauer was standing outside the office, and upon arrival he hardly seemed to recognise us – in fact he looked rather serious and distracted. We handed the keys back to him, we stood outside and he locked up the office before casually saying "I'll just go and check for damage". This is where we made perhaps our biggest mistake, by standing where we were, and not crossing the road to the parking lot where the car was parked.
Mistake #4 – Always stay with the car until everything is sorted. You don't know what might be done to the car in your absence.
After a few minutes Mr Hofbauer appeared again from the parking lot, walking quickly and shaking his head. "There's damage, there's damage" he kept muttering as he walked straight past us, unlocked the office, and grabbing some paper. We looked at each other, wondering what on earth he could be talking about – as far as we were concerned, the car was returned in the same condition that we received it.
"Damage? Seriously? Where?" we replied.
"Two damages" we were told.
"But I don't know how that…"
"It doesn't matter, there's damage" he cut me off.
"I know", I replied, taken aback by his tone, "But all I'm saying is that I don't know where the damage would have happened, as nothing happened while we were away." To this he simply glanced at me blankly, then turned away, furiously shaking his head muttering "there's damage".
"Can I see it?" I asked.
"Yes, yes, come with me" replied Mr Hofbauer. He jumped up and briskly walked back to the parking lot, as we tried to keep up with him. Upon arriving at the car, he barely let us get a word in the conversation.
"Look! Look! Right there!" he pointed to a scratch on the front bumper, which appeared to have been made by a sharp object of some sort. "It's fresh! It's fresh! Look – touch it! Touch it!"
"Ok I will…"
"Touch it, it's fresh – the paint is coming right off! This was washed right before you picked it up. That damage is fresh. We have photos. That's fresh." Amid the volley of accusations, I ran my finger across the 2 – 3 centimetre scratch – flecks of paint did come away.
Mistake #5 – Think about what you can and can't prove. In retrospect, there was no proof that the car had been recently washed. The first place we saw it was parked alongside a busy road, already running. And the damage report did mention scratches on the front bumper – but the detail would have had to depend on the 'pictures' he purported to have. But retrospect can't compensate us, so this is another mistake on our part.
He showed us another scratch on the back, then led us back to the Hertz office where we were to be charged for the damage.
"I don't know where that could have happened" I said
"It doesn't matter" he cut me off "There's damage, and you have to pay to fix it. Each damage is €900, and there are two… but…. I can do the first one for €300, and the second for €650."
We were stunned. Were we actually about to pay €950 (plus tax) for these two scratches? And were we actually about to negotiate with someone over a cost that should be written in a contract somewhere?
At this point we felt shocked, powerless, and really with no-one to blame except maybe ourselves for letting it get that far. Whether this was a scam or not, it was definitely a perfect storm of circumstances that we walked straight into, and  by this point felt powerless from which to escape.
By this time, another employee, a lady, had appeared at the counter and began to write up the bill and the new damage report. Without another word Mr Hofbauer disappeared back to his office, and we never saw him again. The new representative tried to charge us €950, before we pointed out that the €1000 hold was still in place on the credit card. The remainder was refunded to us, and we were sent on our way.
What to take from this?
I concede that so much of this could have been avoided if we had covered ourselves by taking some simple steps.
Having read some reviews of Hertz Salzburg, particularly the counter we hired from, it seems that this type of treatment upon returning a car (and even the option of upgrading the car) is not unusual.
Putting together our experience at the outlet from the beginning, and the reviews we have read online, we are inclined to believe that if this isn't a scam, it is at least a set formula that has been tried-and-tested to part naive travellers from their money.
Having read about others' experiences with Hertz, including that of some trusted fellow bloggers Ashray and Zara of AZ Backpack Me (you can read about their experience here), there's very little hope of recourse – whether we deserve it or not.
We are still looking into the possibility of whether insurance was indeed included by the corporate rate – although we have very little hope of that either.
Travellers beware – #HertzHurts