Tim Blight
Recipes for Ramadan: Ice Cream Lover's Chocolate Pie
Serves 8, 2 hours
Someone passed me this dessert recipe years ago, and it's still one of my favourites. There's no need to choose between chocolate, ice cream or pastry with this dish – it's a bit time-consuming, but the result is totally indulgent.
Ingredients
1.5 cups plain flour
1/4 cup icing sugar
2 tablespoons cocoa
125 grams chopped butter
200 grams chocolate
500ml vanilla ice cream
500ml chocolate ice cream
1 egg yolk
200ml cream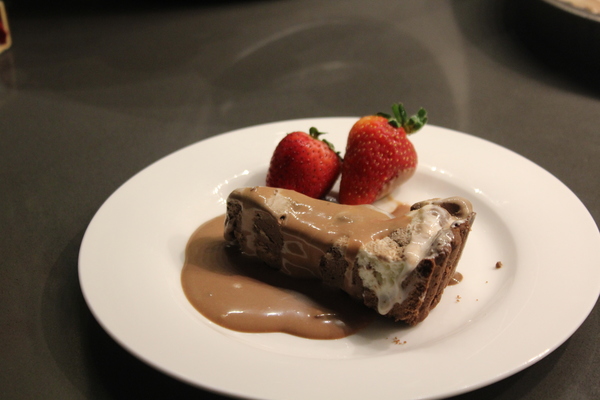 Method
In a mixing bowl combine flour, icing sugar, butter and cocoa. Use your fingers if necessary to mix it through properly.
Add the egg yolk, then mix through until you have a heavy dough
Refrigerate for 30 minutes
Use the dough to evenly line a 24cm pie tin, prick the base, then allow it to sit for another 30 minutes.
Preheat the oven to 190C and bake the crust for 10 minutes. Then reduce the heat to 160C, and continue baking for 5 minutes. Then remove and allow to cool completely.
Melt 100g chocolate, and brush the pie crust with it, then chill.
While the chocolate base is cooling, melt the remaining 100g chocolate, then stir the cream through and refrigerate – this is the sauce.
Add the ice cream as the filling for the pie, cut out a slice and drizzle with the chocolate sauce.
Get many more recipes like this in my book Recipes for Ramadan, available through Amazon – click here!