Tim Blight
Recipes for Ramadan: Abgoosht
Serves 4, 2 hours 30 minutes
This Persian stew looks simple enough, but the trick is in how you eat it!
Ingredients
1.5 litres water
500 g lamb shanks
½ cup chickpeas
½ cup white beans
1 large onion, chopped
2 tsp crushed garlic
1 tsp turmeric powder
4 dried limes, pierced
2 medium tomatoes, halved
2 medium potatoes, peeled and cut into chunks
1 tbsp tomato paste
salt
black pepper
2 tbsp lime juice
handful of baby spinach leaves
soft Iranian or Turkish-style bread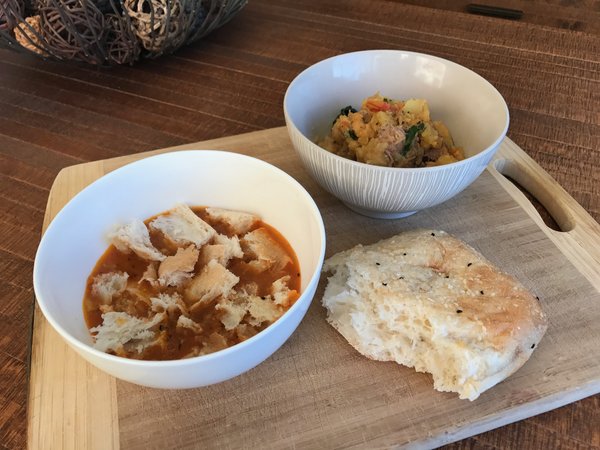 Method
Put 1.5 litres water, lamb, chickpeas, white beans, chopped onions, turmeric, pepper and garlic in a large pot. Bring to the boil.
As it boils, skim and discard the foam which is floating on the top. Continue skimming until no more foam is produced. Then cover the pot, reduce the heat to medium and simmer over for 2 hours.
Add potatoes, tomato halves, tomato paste and dried limes. Stir them in, then cover the pot again. Simmer for a further 15 minutes.
Add salt and lime juice, stir, then simmer for another 15 minutes.
Remove the meat from the bone, then discard the bones. Remove the dried limes too.
Serve into bowls with bread, garnish with baby spinach leaves, and serve an empty bowl on the side.
Each diner uses the bread to strain the broth off into the second (empty) bowl. Then break up the bread into small pieces, and place in the broth. Mash the solid contents in the first bowl. The dish is eaten in two parts; first the soup, which is largely absorbed by the bread; and the solids, eaten as a mash.
Who said Iranian food wasn't interesting?!
Get many more recipes like this in my book Recipes for Ramadan, available through Amazon – click here!