Tim Blight
Osh, Kyrgyzstan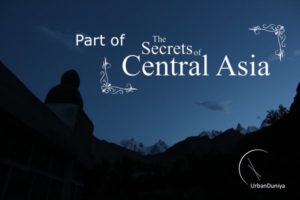 Osh, Kyrgyzstan's second largest city, is also its most historic, but it finds itself in a fateful knot of borders. It's no Bishkek – where Bishkek is refined and orderly, infused with something of a European sensibility, Osh is 100% Central Asian metropolis – rough and ready, dusty and loud, with more than a hint of the Middle East. But Osh's historic ethnic tapestry and friendly market-town vibe have also been responsible for some of Central Asia's darkest secrets…
When I arrived in Osh I checked into the Taj Mahal Hotel which is run by a half-Kyrgyz, half-Indian woman (go figure). The Taj Mahal was only slightly less palatial than it's namesake, although my bed creaked loudly enough to wake the dead woman for whom the Taj Mahal was built.
On my first morning there I walked around the city centre, and spotted some relics of the Soviet era in the form of a Yak-40 (a Russian-built plane) which had been converted into a playground exhibit after its service with Aeroflot.
I also met some locals in the park who asked for their photo to be taken, and I spied a building facade painted with Mishka, the adorable mascot of the 1980 Moscow Olympics.
Osh is an interesting town, suffering from a sort of cultural schizophrenia – it's the second biggest city in Kyrgyzstan, but it's nearly half populated by ethnic Uzbeks. In local parlance, this is an important distinction, because apart from having a different language and culture, Uzbeks are more closely identified with the flat-land dwelling folk in Uzbekistan, just 8 kilometres away.
In fact Osh could have been part of Uzbekistan, but Stalin drew up the bizarre jigsaw borders in the 1920s from his cushy pad in Moscow, without considering the cultural realities on the ground. Besides, back then it was all part of the Soviet Union; no-one cared to think that these would one day become national borders. Take a look at the borders in the map below.
With such a hotchpotch of cultures and the maze of lines, ethnic nationalism rose quickly in the first few weeks before independence from the Soviet Union. In June 1990 groups of Uzbeks and Kyrgyz faced off over the division of resources in the soon-to-be-independent city. Kyrgyzstan had no police force yet, and the Soviet police apparently just stood by, not sure what to do because it almost wasn't their country anymore. The riots claimed at least 300 lives. Exactly twenty years later violence exploded again, and this time claimed between 400 and 2,000 lives, depending on who you ask. In the intervening years, and in the years since 2010, Osh has remained a rather peaceful city.
Osh city is older than Rome, and in the year 2000 celebrated its 3000th birthday. Today Osh is a pleasant place, although its only main attraction is Soloman's Throne, a huge rocky outcrop which rises up out of the city centre. It is said that the Prophet Muhammed ﷺ once prayed here, making it an important place of pilgrimage for some Muslims.
The mount is also said to look like a woman giving birth from some positions; this makes it popular with women who who have trouble conceiving, hoping that the prophet's prayer room will also bless them with a child. Up on the rock I saw lots of babushkas (not the Kate Bush song, but Russian for "old woman") praying, picking flowers to hang in their homes and tying strips of material from their headscarves to the trees in the hope of grandchildren.
Have you ever been to a city or country with a drastic ethnic divide? What was it like? Comment below!