Tim Blight
Batura Glacier and Passu Glacier, Pakistan
Australia has its fair share of landscapes; scorching deserts, flawless beaches, lush rainforests, chilly alpine hills and tranquil wetlands. But one thing that Australia doesn't have is glaciers.
Having grown up in suburban Sydney, it's probably no surprise that I would be drawn to something as exotic as a glacier; sheets of ice tumbling down a mountainside in eerily majestic slow motion. It's about as far from the sticky east coast Australian summer as one could imagine, however I never imagined that getting to one would be so easy.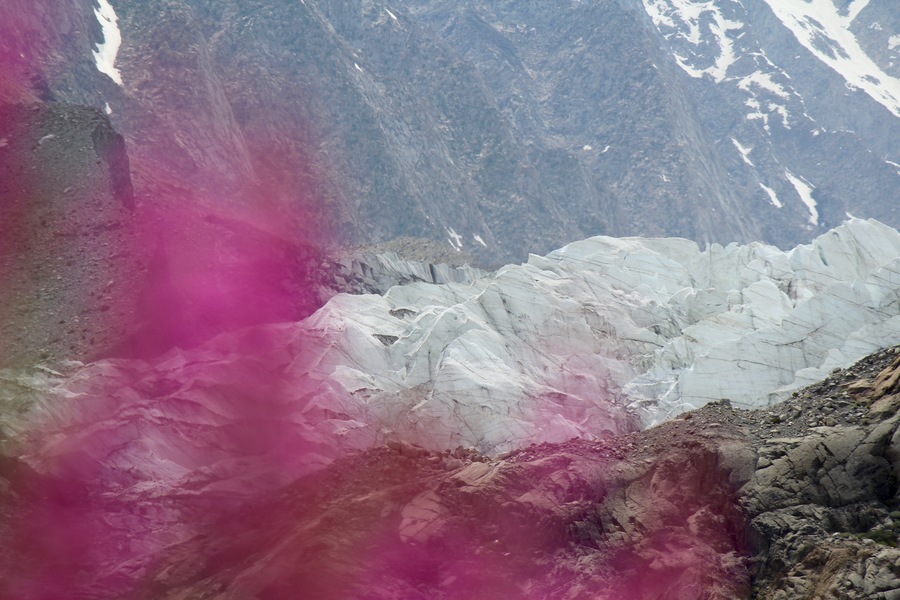 Passu, a place that I have already claimed as my favourite place in the world, is a tiny village on the Karakoram Highway in northern Pakistan. Surrounded by some incredible mountain ranges, you don't have to look far for natural inspiration. Years ago I read about this corner of the world in my now dog-eared Lonely Planet guide to Pakistan, published in 2004. It seemed so tranquil, so far from the rest of the world, and yet… so accessible.
After all, Passu features not one, but two glaciers within a short walk of the Karakoram Highway. For someone travelling alone, and who until recently wasn't really that interested in hiking, what could be better? Fate had other plans though, and three times my plans to explore Passu's glaciers were thwarted by circumstances. But in 2016, I finally got my turn.
From the small bazaar in Passu I set out north along the Karakoram Highway, determined to make it to the Batura Glacier on foot – with a small bottle of water, my camera, and having slimmed down and trained up in the weeks prior, I figured it would be a snap.
Little did I realise, and through no fault of LP (my overconfidence to blame), the glacier's lookout was in fact seven kilometres north from my starting point, and while the mountain air was deceptively cool, it was also dry and short on oxygen. The June sun, typically, was searingly hot, its intensity seemingly amplified by the altitude. By the time I reached the edge of the Batura Glacier, I was parched, and I realised I had made a mistake.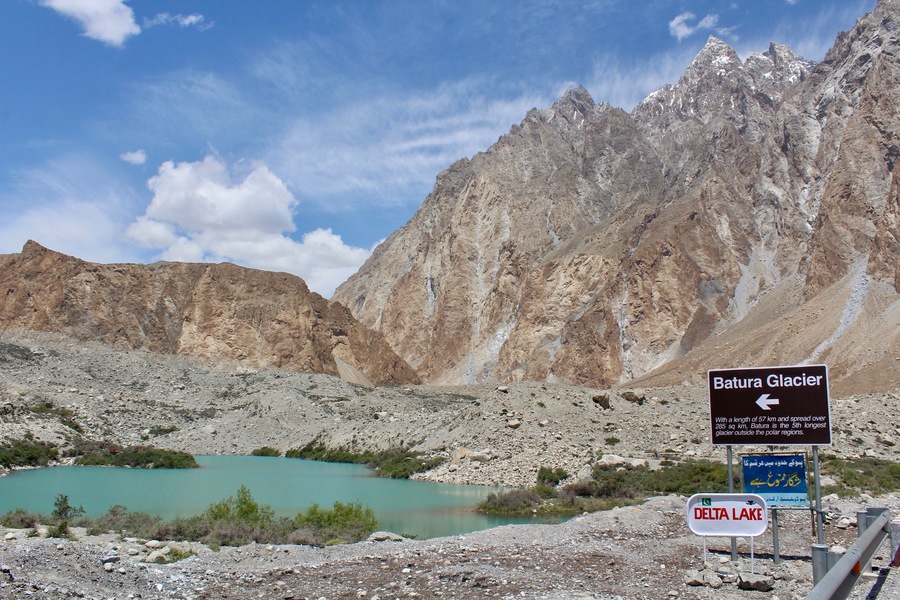 I climbed a small hillock to capture some shots of the body of ice, referred to as Passu's "black glacier" because of its muddy brown appearance. At 57 kilometres long, Batura is the fifth longest glacier outside of the polar regions; a hike of up to a week can take determined trekkers towards its origin.
However with the sun beating down on me, I knew I couldn't afford to stay – I risked worsening the mistake I had already made. Sliding back down the hill to the roadside, I flagged down a passing van heading southbound. They picked me up and drove me the seven kilometres back to Passu, where a large bottle of freezing water was waiting for me. That's the thing about Pakistan – you're (almost) never alone, and it seems there's always someone willing to help out.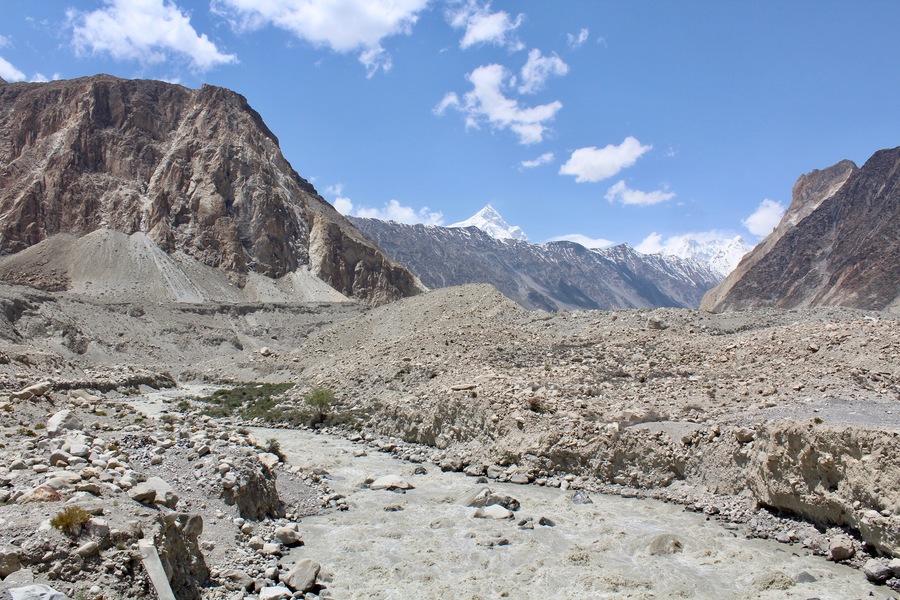 After an hour's rest I struck out for the Passu Glacier, a more sensible one kilometre walk south of the Passu Inn. This time I was prepared, and the weather was cooperating too – the sun's light had faded behind a few wispy clouds, and the valley was showered in a lovely dappled light.
The Passu Glacier is more of a crowd-pleaser than the Batura Glacier, with more obviously alpine surroundings and a gleaming greenish-white appearance. An easy twenty minute ramble over some scrubby hills brought me to the Passu Lake, from where I could gaze up at the spectacle.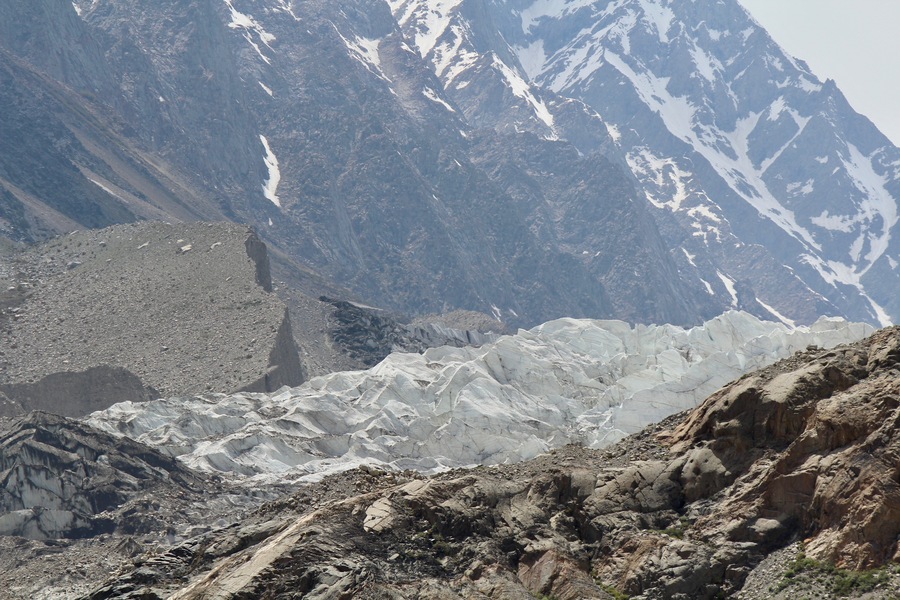 Another trail takes you right to the edge of the glacier, and continuing up and around the mountain it's possible to loop all the way around the Batura, eight kilometres to the north. But for me, having already skirted around some thin ice earlier in the day, my position below the Passu Glacier would suffice as the perfect spot to end a day of glacier viewing in Pakistan.
Have you ever seen a glacier? Where was it? Comment below!