Tim Blight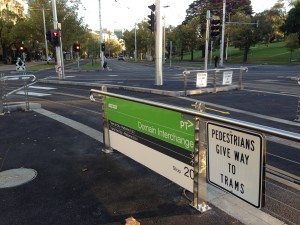 Melbourne's Domain Interchange, at the intersection of Domain Road, Park Street and St Kilda Road, has reopened after a two week closure while it underwent a major redevelopment.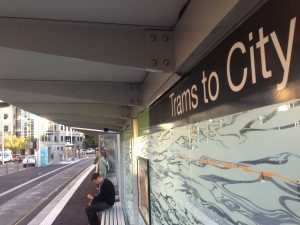 The redevelopment has seen the raising of the two island platforms, allowing for easy access to the newer generation low-floor trams for commuters, particularly the mobility-impaired. The easternmost platform is a dedicated Domain Road platform for Tram 8, which proceeds towards Toorak.
Sleek glass dividing panels, stained with a wavy imprint, have replaced the old yellow and green wooden hoardings which used to separate the platforms. Meanwhile electronic indicator boards update passengers about the arrival of the next tram. A dedicated bicycle lane has also appeared, underlining the increasing importance of the two-wheeled transport to Melbournians.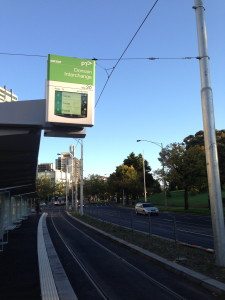 Domain Interchange is one of Melbourne's busiest transit stops, with more than 14,000 passengers using it each day, according to Yarra Trams. ABC News reports that the upgrade cost $10.2 million, and has created a safer environment for motorists and cyclists.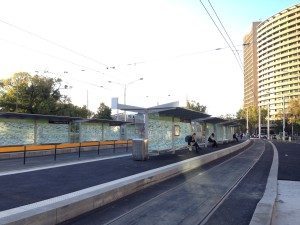 Victoria's Transport Minister Terry Mulder told Australia's state broadcaster that "it's a much more efficient interchange, a much more modern interchange, and I think it sits in very well with the precinct". Yarra Trams has announced on its website that around 5000 shrubs will be planted around the area as part of landscaping works to further improve the appearance of the surroundings, while a heritage clock built into the old structure has been appropriated into the new interchange.
Tree-lined St Kilda Road is known as one of Melbourne's most upmarket suburbs, yet it carries at least ten out of Melbourne's twenty-eight major tram routes.