Tim Blight
Lahore's best iftars this Ramadan!
We all know that this is at home, lovingly prepared by ammi, and served complete with pakoras, fruit chaat, dahi bhalley and rooh afza! But if you find yourself outside at iftar time, if you're ready for a change, or if you are hosting a whole bunch of people out of your home, here are the best places to break your fast this Ramadan!
All prices below are for iftar plus buffet dinner, unless otherwise stated.
1. BarBQ Tonight
Falsa juice – after rooh afza, could there be any more refreshing juice with which to break your fast? A variety of salads, barbecued meats, sandwiches and desserts in pleasantly appointed surroundings.
Cuisine: Pakistani barbecue
Cost: Rs. 1500 plus tax
Website: www.bbqtonight.com/lahore
2. Al-Nakhal
Such flavour, so much food, and so little money! While the prices aren't bargain basement, Al-Nakhal is the place to feed lots of mouths without emptying your pockets – and without compromising on quality or spectacle.
Cuisine: Arabic, Pakistani
Cost: Rs. 849 inclusive of tax
Website: www.alnakhal.com.pk
3. Smoothie Factory
Smoothie Factory offers a great compromise between western fast-food and traditional iftar. Lots of pizza, fries, and of course quality fruit-smoothies and frozen yogurt, but also lots of rooh afza and dates to start off with.
Cuisine: Pizza, burgers, smoothies and desserts
Cost: Rs. 350 per head – choose from two set menus.
Website: smoothiefactory.com.pk
4. Yum
Chinese and Thai for iftar? Why not? Yum offers the regular pakora-style snacks and cold drinks to break your fast, but then follows it up with a full-scale buffet dinner with a limitless supply of all your favourite Pakistani Chinese and Thai dishes.
Cuisine: Chinese, Thai
Cost: Rs. 2150 inclusive of tax
Website: yumpakistan.pk
5. Salt n' Pepper Village
For the uninitiated, Salt n' Pepper village is actually a warehouse-style eatery where each dish is prepared by individual stall-holders in a 'village'-style set-up. It's not cheap, but imagine all your favourite home-cooked dishes being served at once. It's worth it!
Cuisine: Traditional Pakistani
Cost: Rs. 1680 inclusive of tax
Website: www.saltnpepper.com.pk/lahore
6. Bombay Chowpatty
Cutlets, biryani, dosa and gulab jamun – all the favourite street foods from Delhi, Mumbai and beyond come together at this Indian-style street food restaurant! The sehri is pretty good here too!
Cuisine: Indian street food, south Indian
Cost: Rs. 1099 plus tax
Website: www.facebook.com/Bombay-Chowpatty-Pakistan
7. Namak
Namak specialises in Afghani and Baluchi cuisine;  you can even sit in a Baluchi-style nomadic tent setting! The Kabuli pulao is really special, and make sure you wash it down with kahwah and gulab jamun.
Cuisine: Afghani, Pathan, Baluchi
Cost: Regular menu prices: expect Rs. 500 – 1000 per head, depending on order.
Website: www.facebook.com/namakrestaurant
Honourable mention: Dera; bring a big appetite – if you order ahead, they will prepare a whole Baluchi sajji for you (entire sheep or goat stuffed with rice and spices then spit-roasted).If you're dining with less people, you of course can sample any of these delights from the buffet – put on your eating shirt!
For Ramadan recipes, click the image below to find out about my latest book 'Recipes for Ramadan'; a month of feasting, a life of journeys and a world of flavours!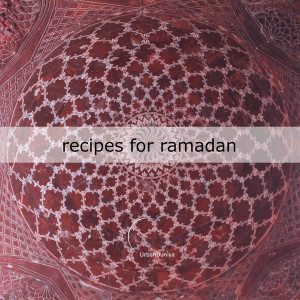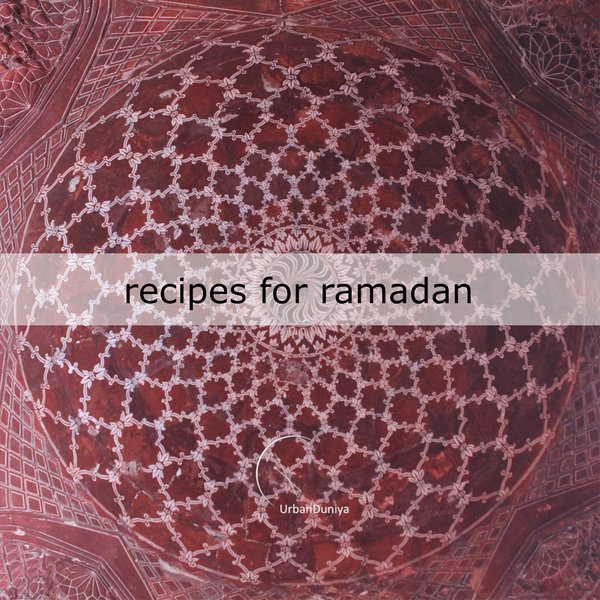 Do you have any Ramadan restaurant recommendations? Comment below!