Tim Blight
Why Kerala is simply bliss!
One of the things that stayed with my long after leaving the road in India were the vignettes in my mind; that moment when you first glimpse the Taj Mahal, the ethereal atmosphere of the Golden Temple, eating coconut-infused dishes in Chennai. Sure, there are a lot of things in between which aren't worth remembering, but it's these moments that I took away with me, and made me return again and again.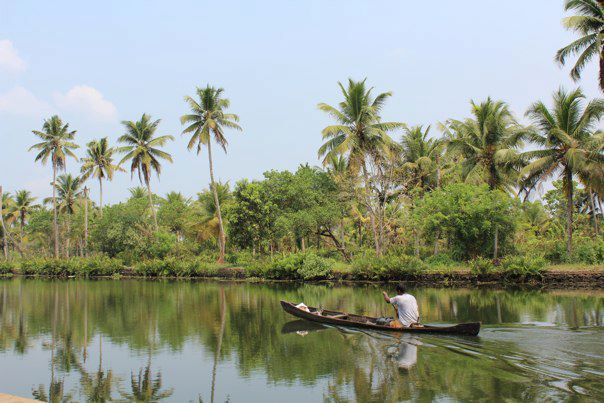 And of all the places that are imprinted as picture-postcards in my memory, Kerala is probably the most vivid.
Although Kochi, one of Kerala's larger cities, is home to 2 million people, it still retains its lagoon-side lifestyle. Goats still walk the streets which are filled with the aroma of vanilla-infused incense; spicy and smooth.
Chanting emanated from churches and cathedrals across the island city. I had arrived on an important Christian holiday, and the city's large Christian population were out in force, marching around the streets with leaves, crosses and incense.
The weather was hot and sticky, typical of Kerala's equatorial climate, so I decided to take some time out with an ayurveda treatment. Ayurveda, the subcontinent's traditional folk medicine, is important to Kochi – although it is often called an "Indian" treatment, it was apparently perfected on the tropical coast of Kerala. I paid 600 rupees (about $12) to lie on my back, and with my eyes shielded by cool compresses, warm aromatic oil was poured in a continuous stream across my forehead for half an hour, my scalp massaged as it coursed through my hair.
Later in the day I headed down to the water's edge, where huge fishing nets have sat for centuries. Originally brought to Kochi by Chinese traders, they have been rebuilt over the years, but are essentially still the same – huge wooden arms reach out over the estuary, hauling up expansive nets on a pulley system up to three stories high. Watching the fishermen work these contraptions is an attraction in itself, but nothing quite compares to watching the sun sink into the Arabian Sea behind these spindly, photogenic structures.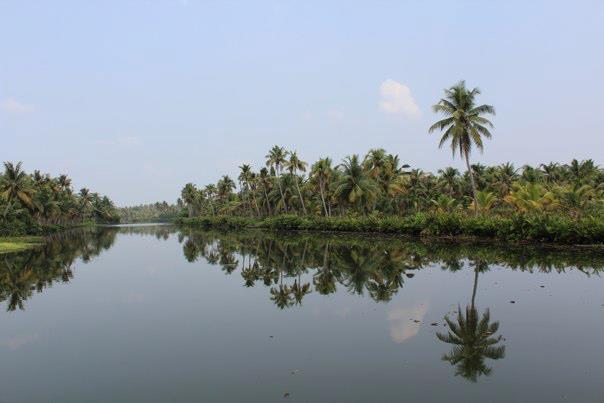 The next morning I jumped in a taxi to get to Perumbalam, 35 kilometres south of Kochi, and beyond the urban sprawl. The estuary between Kochi and the Indian mainland is one of dozens which line the coast of Kerala. These waterways have been adapted into a series of canals by the local farmers, and have for centuries been used as aquatic routes to link remote communities. The placid waters, separated from the sea by a narrow spit of land, are lined by coconut palms and spice plantations and plied by canoes, rowboats and houseboats. I took a trip in a boat around the canals; the calmer-than-calm water shimmered with the reflection of the tropical flora along its banks; sugar cane, rice, coconuts, hibiscus and lotus.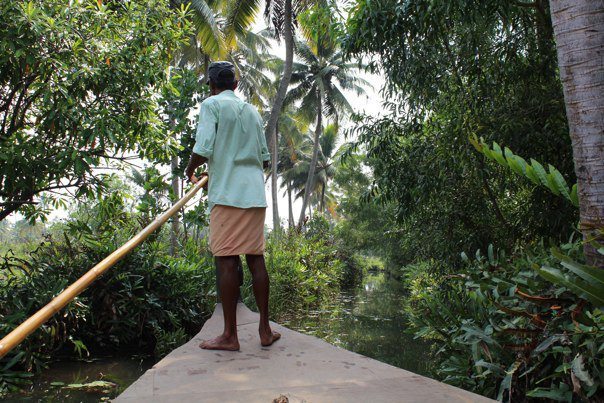 Kerala's tourism slogan is "God's Own Country", and looking at these pictures, it's easy to see why. There are a million reasons why India might not be your cup of tea – some travellers even say that the name India is an acronym for I'll Never Do It Again. But often it's just perfect – and in Kerala, you'll make your own memories to disappear into while you're back at work weeks, months and even years later.
Have you been to Kerala? What did you think? Comment below!
I stayed at the bare basics Taj Mahal Homestay, booked through HostelWorld.com. Vivanta by Taj and Trident are both top-end Indian hotel chains that have a presence in Kochi, if you're looking for something more upmarket. Several tour agencies can organise backwaters trips, and ask at your hotel for a local recommendation if you're interested in doing shirodhara.