Tim Blight
Hong Kong is in many ways just as I had imagined it to be. Big, hot, humid, people living on top of each other, developed but with a rustic Asian charm (it smelled of Indonesia). It is also in many ways different to how I had imagined it; very lush and mountainous (it reminded me of Sydney or Auckland in that way), not that multicultural, and seemingly confused as to whether it should be Singapore or Jakarta.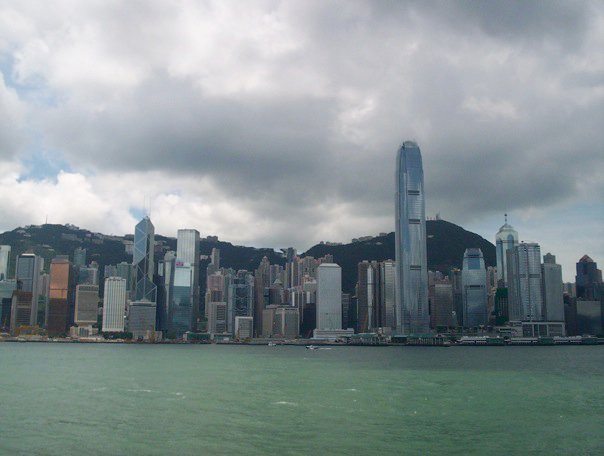 Hong Kong at first did not dazzle me; it was as I peeled back the layers that it started to reveal itself in true form, and this was just in the course of a day. For those unfamiliar with Hong Kong, it is split across a harbour into two main halves, the island side (Hong Kong) and land side (Kowloon, although the locals would pronounce it more like "Gaulong"). Then there's hundreds of smaller islands and several other districts as well as Kowloon, although perhaps not as famous.
I started on Hong Kong Island and took the Peak Tram funicular to the top of the mountain in the middle of Hong Kong Island. Being winched straight up the side of the mountain, amongst verdant forest, criss-crossing motorways and sky-high residential towers seemed like the perfect way to start the day. This was especially the case when one considers the weather; for weeks before I arrived, Hong Kong had been inundated by a torrent of water from the annual monsoon, and until the day I arrived Hong Kong was on typhoon watch. Luckily for me (unluckily for some Chinese cities) the storm changed its path away from Hong Kong and over towards the mainland, and as I reached the summit of the mountain the sun broke through the clouds allowing for some perfect photo opportunities overlooking the HK skyline.
Soon after I was in the Hong Kong of my dreams, wandering through Soho and surrounding districts with the smell of Chinese cooking wafting from restaurants opening for the day, and visiting the incense-filled Man Mo temple, the oldest Buddhist temple in Hong Kong. By this time, a few things had become very clear to me; first; Hong Kong loves Starbucks. It's everywhere. Two; Hong Kong has a severe lack of places to rest your legs – the only places I could find expected you to pay (eg – an internet cafe or a restaurant). It's that hard to find public seating anywhere. And thirdly; I felt old, lazy and unfit, searching for a place to sit down like it was a matter of life and death. Must do something about that one. In the end, I found Hong Kong's one public seat hiding in the lobby of the Hyatt, because lets face it, if you're going to sit down, you've gotta do it in style!
The MTR is Hong Kong's favourite way to get around, and it is very efficient. And this is where I draw the comparison; Singapore with it's SMRT is so efficient it's like living in Star Trek, whereas Hong Kong's metro system is modern and efficient but then you step outside and see that it's not all modern and efficient, and it feels more like Blade Runner. And yes people spit in the street, although I'm told by a reliable source that the Hong Kongers gave up this practice in the late 1970s, and that the people who do it these days are those "uncultured mainland Chinese who visit" (not my words, by the way!).
Speaking of which, things have apparently changed since the handover to China in 1997. I headed down from the Man Mo temple to the waterfront, currently being redeveloped, where the handover took place. In that spot today is a gaudy golden lotus, which is enshrined on the new Hong Kong flag. And that flag is a case in point, as Hong Kong is still not fully integrated with China. The post-1997 official name for the city is "Hong Kong S.A.R.". S.A.R. stands for "Special Administrative Region". This means that while Hong Kong is part of China, it is still allowed to have its own currency, flag, immigration controls and convene its own government. In China, this was called yi-guo-liang-zhi which translates as "One Country, Two Systems", and is guaranteed for Hong Kong until at least the year 2047. Macau got a similar treatment when it rejoined China. Walking away from the golden flower, I wondered how much had changed already, how much will change come 2047, and if some things will never change; Hong Kong is still fond of its famous double-decker buses, the colonial style taxis and the Star Ferry which still links Hong Kong Island with Kowloon as it has for years.
I took a ride on the Star Ferry, definitely recommended for a valuable insight into Hong Kong's working class. While on the ferry I caught sight of some junk on the harbour (pun intended). Typically oriental, I could have been in Hong Kong in the 1940s. After getting a photo of this truly Asian image, the junk pulled into a wharf and picked up a load of paying American tourists. So I pose the question; in this modern era of hydrofoils and underwater tunnels, is a junk ever truly a junk? And when is a junk just, you know, rubbish? (junk, one might say?). Ok I'll stop now, but you get my point – Hong Kong may well have seen the end of the junk,  replaced by technology and borderline cringeworthy nostalgia. Most junks have probably ended up in a museum somewhere – after all, one man's junk is another man's treasure (Ok, really, I'll stop).
I spent the afternoon in the more exciting, tourist oriented Kowloon, and the grungy Mong Kok, before jumping back on the airport train and waving goodbye to Hong Kong.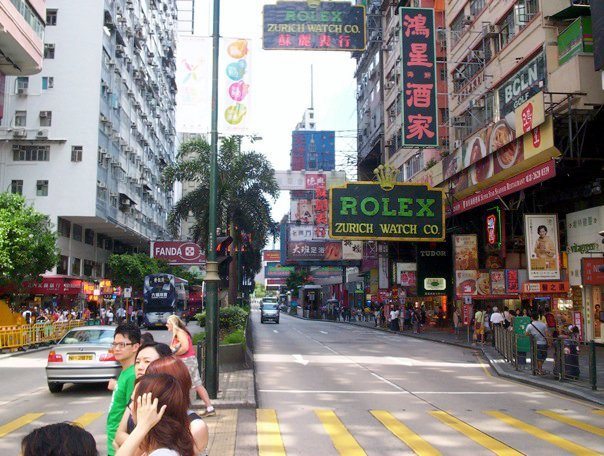 At the train station I pushed the button for the lift to take me to the platform level, and noticed a small note on the button panel, proclaiming that "This button is disinfected every two hours". A hangover from the recent history which has not been so kind to Hong Kong (think the 1997 Handover, Asian Economic Crisis, SARS, Bird Flu, Global Economic Crisis…). And then I got in the lift where a massive sign implored all passengers to hold on the banister. Hmmm hygienic. Maybe Hong Kong won't change that much after all.
Have you been to Hong Kong? What did you think of it?