Tim Blight
Chitral, Pakistan
The Chitral Valley is one of Pakistan's furthest flung corners, right up to the northwest on the border with Afghanistan. It's something of a cultural island; surrounded by much more dominant societies such as the Pashto-speaking Pathans to the south, or the mish-mash of tongues in GIlgit-Baltistan to the east, Chitral's isolation has preserved its unique Khowar-speaking civilisation for millennia.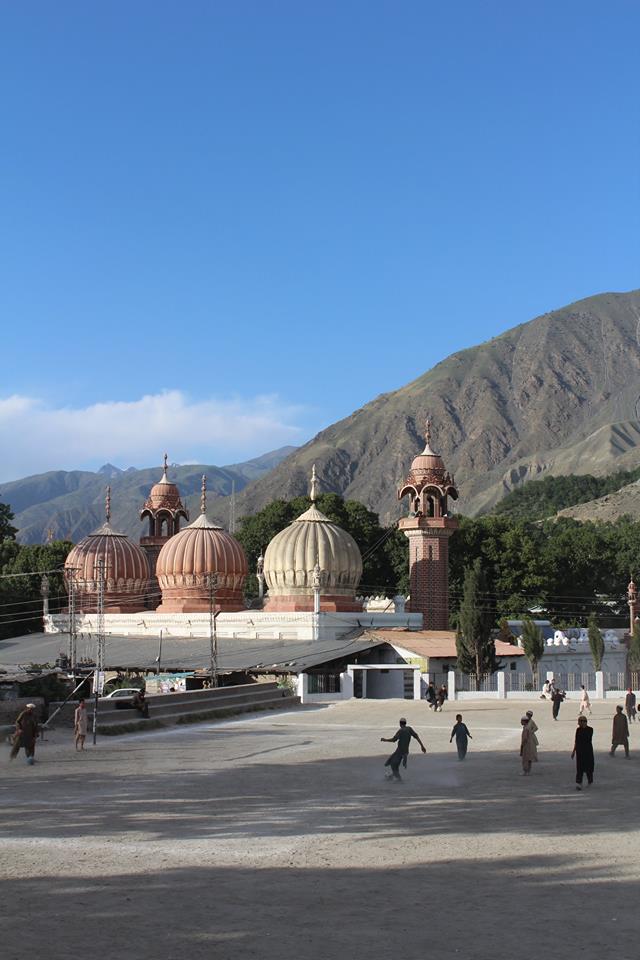 That's not to say, however, that Chitral doesn't offer something of a taste of the surrounding regions. Being the most significant settlement for hundreds of kilometres means that Chitral Town (also referred to as just "Chitral") is a trading hub. The town is the major service centre for the surrounding valley; a place where all manner of goods are traded; food, fuel, homewares, building materials, languages, ideas and religion.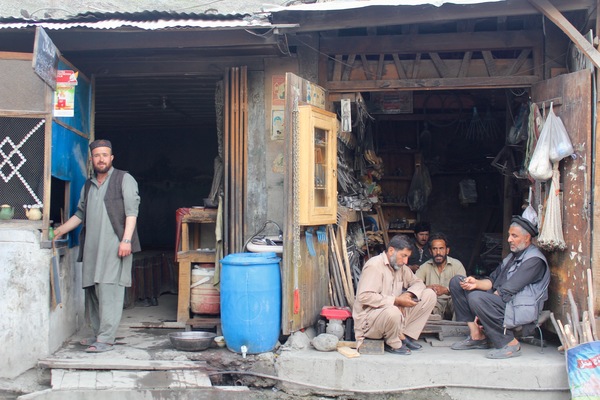 Foreigners in Chitral must, by law, be assigned an armed guard to aid them with their voyage through the culturally (and politically) sensitive region – you are, after all, travelling through an area that sees remarkably few outside visitors, and which is located just 50 kilometres from Afghanistan. However my guard, an affable young commando, left me to my own devices one afternoon and advised me that I could go around the bazaar as I liked – just stay inside the town centre.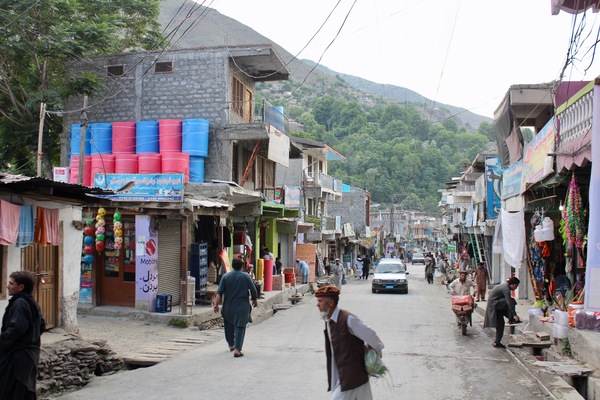 A walk around town
I walked around town I discovered an incredible rich mix of cultures, from the Afghan-style teashops to the local Chitrali milliners crafting their hats for the locals. I stopped in at one of the Afghan chaikhanas (teashops) for lunch; there were three items on the menu – kabuli pulao – a mildly spiced dish of rice and chicken; Afghani-style green tea and milky Pakistani chai.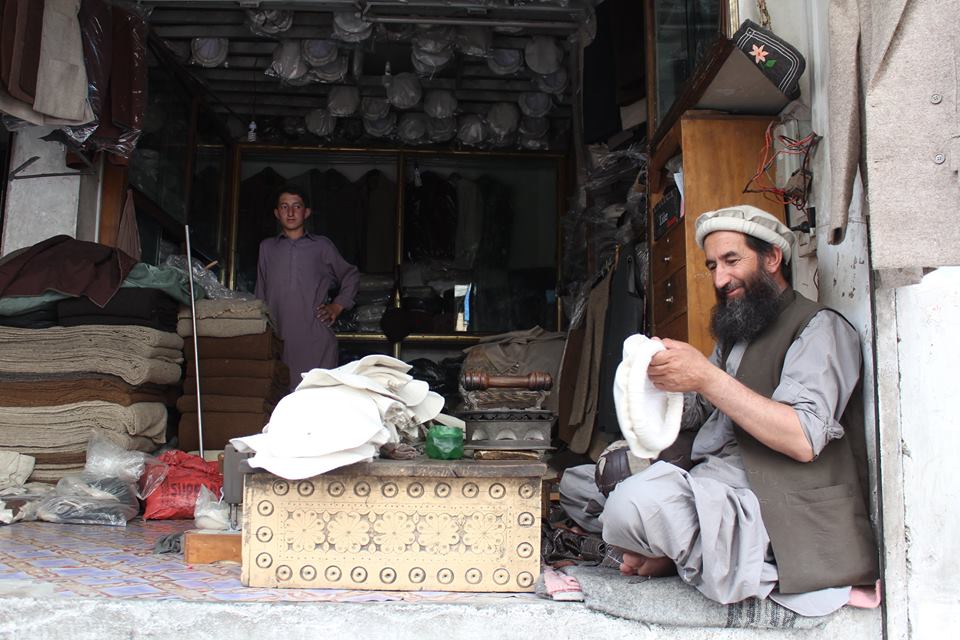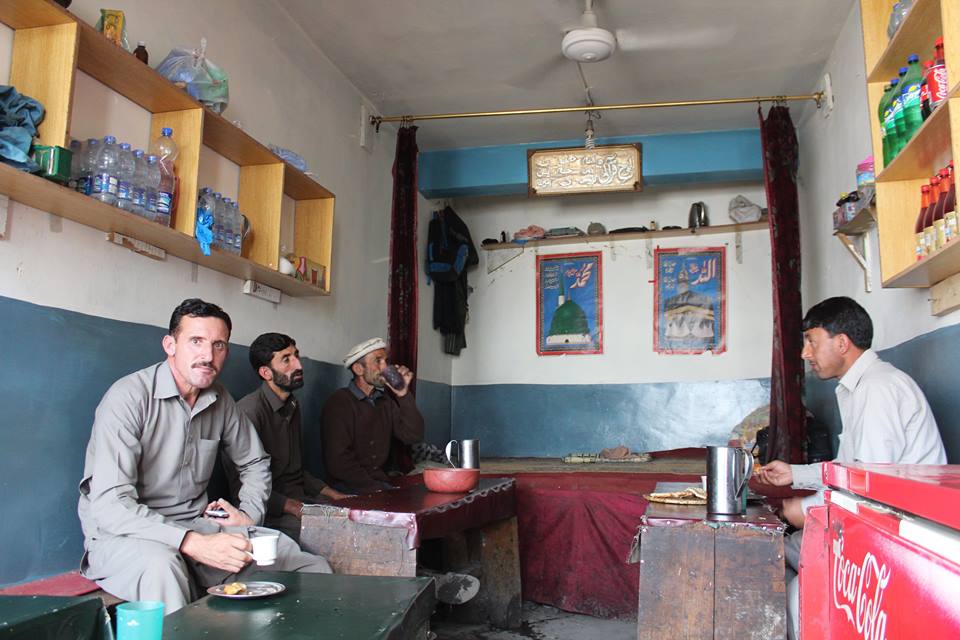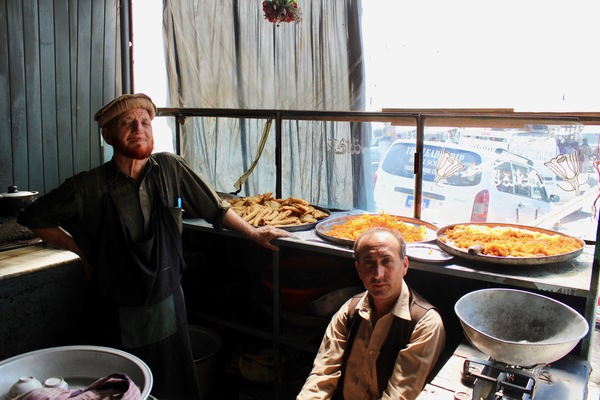 Back out into the bazaar, my next stop was just a few shops along where I spotted a young boy looking rather bored at his father's shop. The perfect photo opportunity turned into one of those charming unexpected detours when his father asked me to take a seat and have a bottle of Coke with him and chat about life in Australia, Chitral, Lahore and wherever. The old man belly-laughed whenever I described the frenetic life in Lahore – I got the impression that he was rather proud of the relative tranquility of his mountain abode. We spoke in English – his Urdu was, by his own admission, quite weak, and my Khowar non-existent. All the while his son sat there watching us, well-behaved and patient, occasionally nodding his head when he understood that we were talking about him.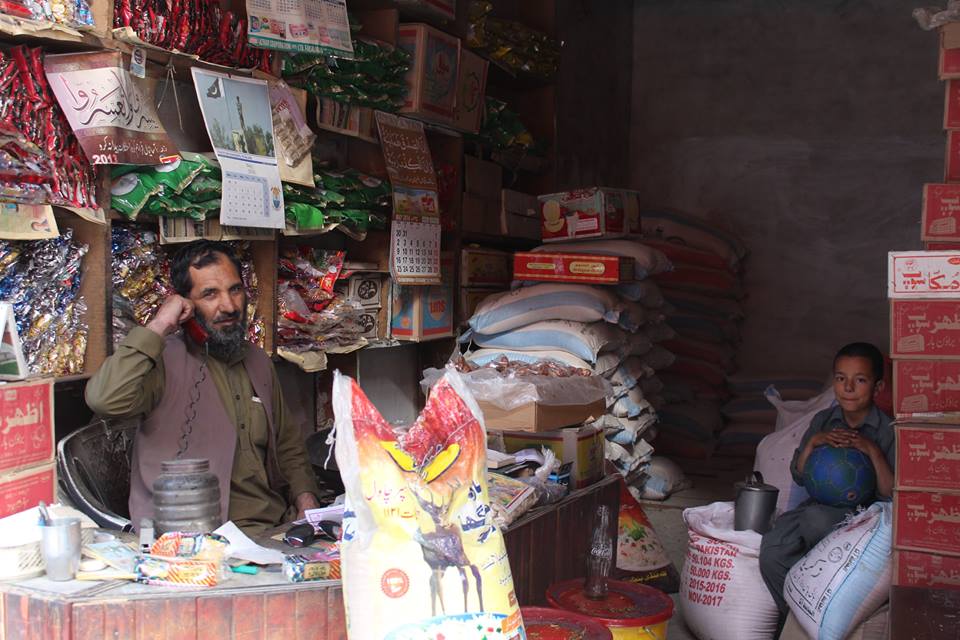 Outside the sun was beginning to sink lower in the sky, casting the long shadows of the mountains across the town in the valley. Traders began to pack up their businesses for the day, a frenzy of activity before the cool of the night fell. Food hawkers rushed around the streets to drum up business among the groups of people heading home; popcorn sellers, milkshake stands, ice cream carts. Chaiwallahs (tea makers and the young men who deliver the steaming hot cups of goodness) ran to grab the last business of the day.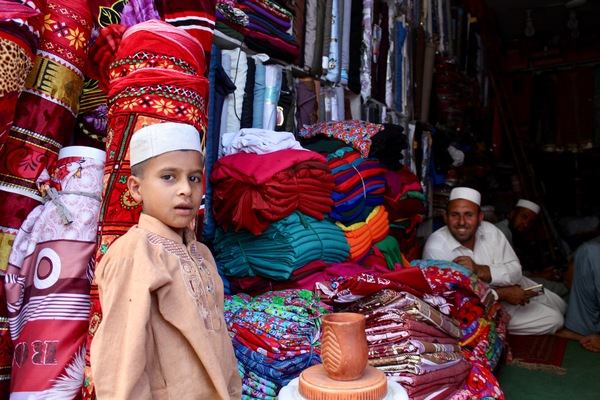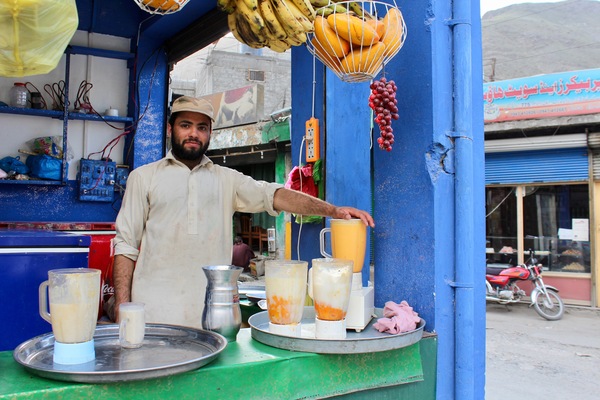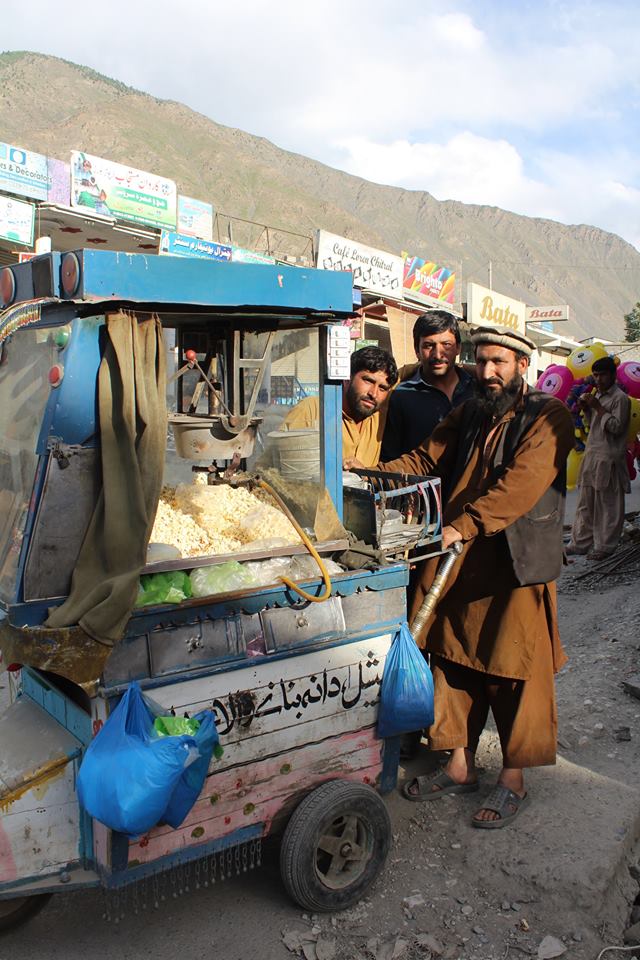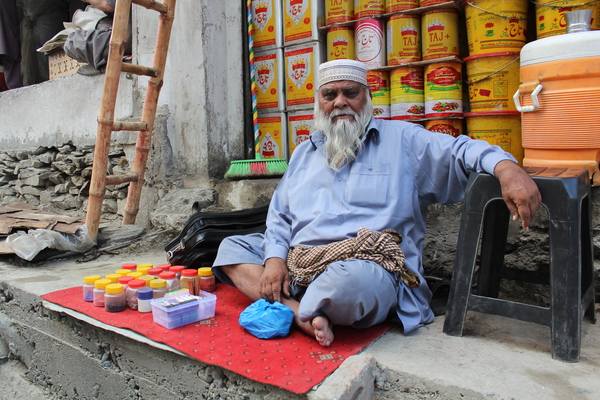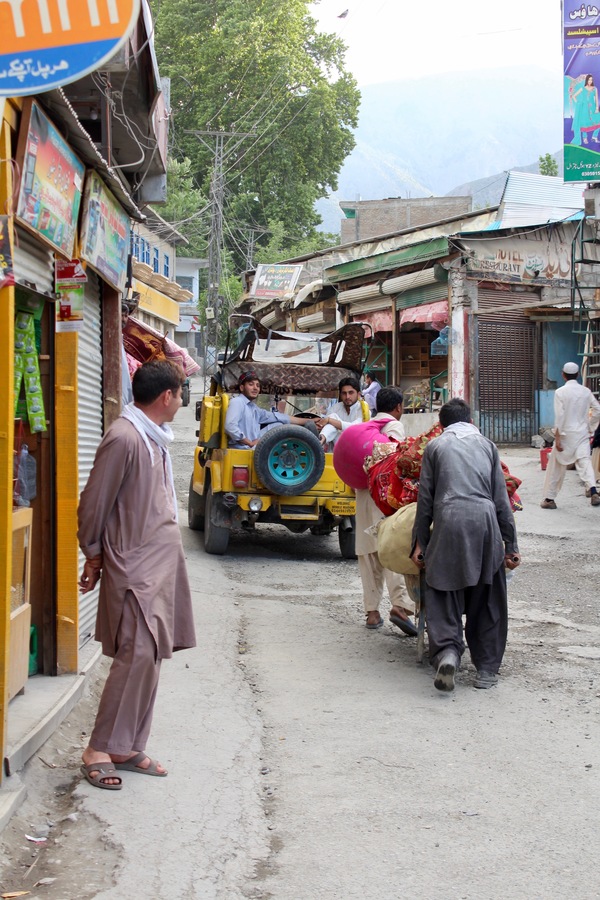 I returned to my hotel where my own steaming hot cup of chai was awaiting me on the rooftop terrace. As I sat and watched the sun set on another day in this incredible region, I wondered for a moment what was going on in the outside world; Chitral felt so isolated, so insulated from the rest of the globe that it was almost like we had dropped off the map. While the traffic snarls and soup of pollution continued in other places, in this tiny mountain community another evening was unfolding like it had for milennia, and we were both blissfully unaware of each other.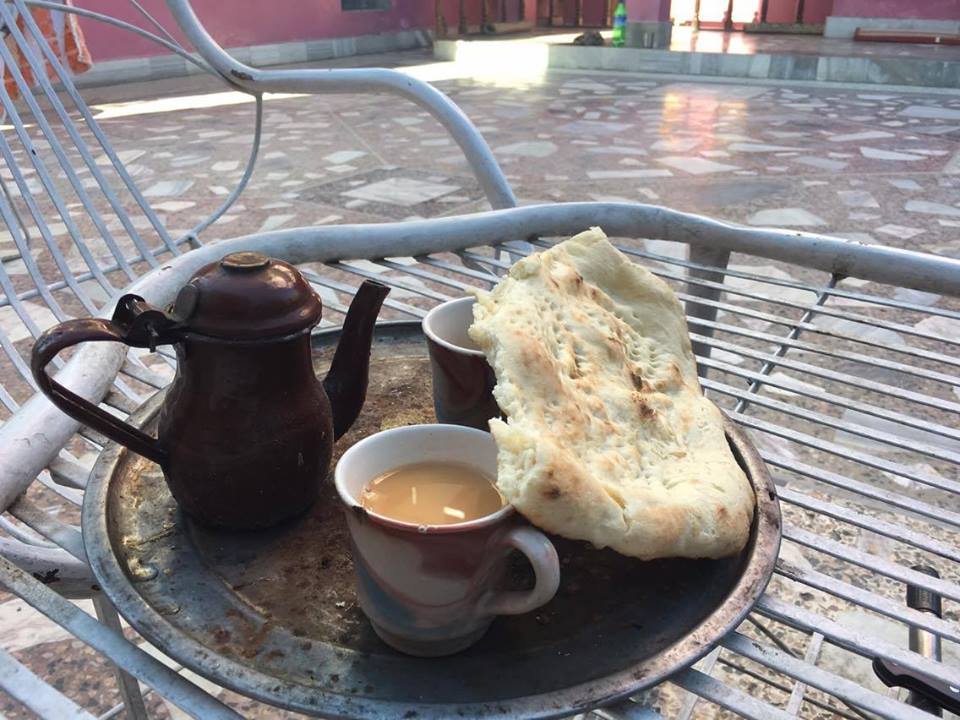 Your questions answered
How to get there: Fly from Islamabad or Peshawar on Pakistan International Airlines for about PKR 10,000 one way, or take a bone-rattling 16-hour minibus from Gilgit or Peshawar.
Where to stay: I stayed at the Al-Farooq Hotel, a cheap option which charged PKR 600 per night for a basic single room with breakfast.
Do I have to have a guide: Yes. There's really no way of getting out of it. The guides are free of charge, and are assigned from the moment you land in Chitral or enter the region by road. They are not guides like you would have on a "tour" – think of them as an armed escort. They are usually chatty and end up being a good friend for the journey and maybe even afterwards. If you are cooperative, they will often be ok with you going off on your own for a while (like I did in the bazaar), however if you try to "push the envelope" they will more likely keep a closer eye on you.
Is it safe: So safe. Chitral is one of the safest, most trouble-free parts of Pakistan, and I can honestly say that I felt safer walking around there than I have in many European cities. In any case, you have an armed guard by your side, so you should be fine!