Tim Blight
Syria
Syria's recent history has not been kind; in its fourth year of a savage civil war, its hard to imagine a less desirable holiday destination at the moment.  Things weren't always so. Despite the repressive Assad government, when I visited in 2004 Syria was most certainly open for tourists' business. In a series recounting my first overseas trip, here is the email I sent from Syria, where I was travelling ten years ago this week. The light-hearted content of the correspondence reflects the difference that ten years has made in Syria, and some names have been altered to protect people's identities.
After my jaunt around Lebanon, I arrived by bus in Aleppo, Syria. The bus ride from Tripoli was five hours long, and two hours into it I felt nature calling. I mentioned to the bus driver that I needed a quick break and he assured me through a gaggle of Arabic that it would happen soon. In the ensuing three hours I squirmed in my seat, and once came very close to using an empty Coke bottle on one of the spare rows at the back of the bus. Through some superhuman effort I managed to hold on until we stooped at a service station about ten minutes out of Aleppo, which begs the question – what really was the point in breaking the journey?
In Aleppo an old family friend Albert welcomed me into his house for the weekend. His family fed and showed me around around the city of Aleppo in northern Syria for two days, in which time I visited the citadel, the new city with its luxurious homes, and the souq (covered market). We also visited the Christian quarter of Aleppo, populated by a large number of Armenian Syrians. Albert's son Michael let me use his computer to fire off a couple of emails before taking me out for nargileh (sheesha pipe). On a Sunday morning I waved goodbye to Aleppo where it had begun raining, and struck out for the capital, Damascus.
Monday in Damascus I woke up at 5am and headed out to the ruined city at Palmyra, three hours away. The cold snap which I had narrowly avoided at Aleppo the day before struck Palmyra that morning; the mercury plunged from 24 degrees to 7 degrees, the wind picked up and it began to rain. This was the first real bad weather of my holiday, except for Singapore where it rains all the time anyway. The entire township of Palmyra looked like a scene from the movie Ice Age, and after struggling through the ruins I was soon on a bus back to Damascus via the Iraqi border. And yeah, that came as a surprise to me too! With all quiet on the western front (at least where we were), I was once again holding my bladder on the bus as we trundled towards Damascus. To make things worse Damascus was sitting on about 4 degrees Celsius.
On Tuesday I had my first hammam, or Turkish bath, experience. My guidebook suggested Hammam el-Noureddine as a "must-see" of Syria. On entering the building (which was quite beautiful), you could tell that the place reeked of unfulfilled desires, and the scrubber-guy was visibly disappointed when I was not as excited as he was about sharing the bath. Two hours of hedging my bets later, I was cleaner than I had ever felt before, and all for $8! The hammam experience also took my mind off the other event which has dominated this week; losing my bank card in Damascus. In hindsight it was probably not such a catastrophe, especially since no money went missing, but at the time it nearly ruined my holiday. It was more frustrating that it went missing in Syria which, let's face it, is in the middle of diplomatic nowhere. I will tell you the full story when I get back, but thank you to my parents Fay and Chris, and Abdullah at my hotel for their help and support.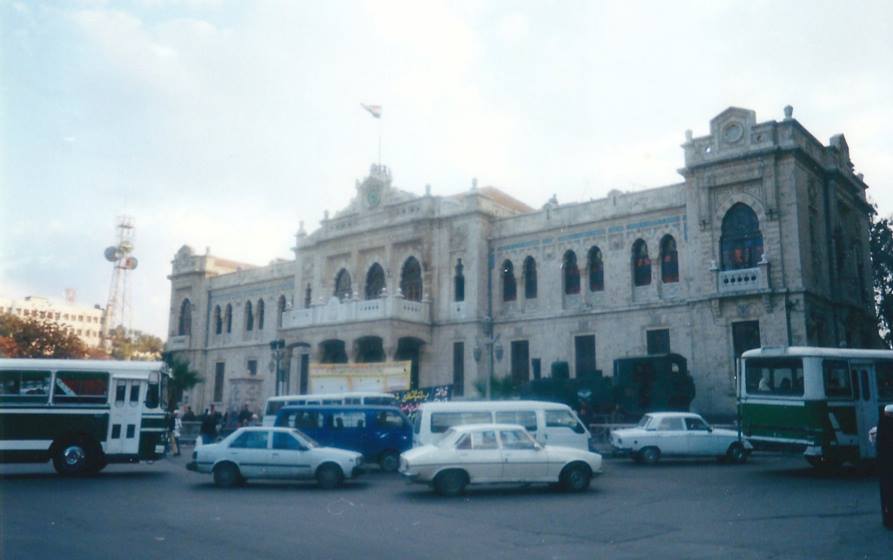 In these emails I have been reporting on some of the negative points of my trip, but they have often also been the funniest parts. However I don't know that I would return to Syria – I have found travelling here a bit frustrating for several reasons. I visited the Umayyad Mosque, which is one of Islam's most historic sites, where non-Arabs must pay for entry because only Arabs seems to count as Muslims. The guy in front of me at the entrance was a Malaysian Muslim called Yusuf, but the ticket collector considered him a tourist rather than a Muslim (apparently you can't be both), and charged him the entry fee. Another interesting thing about Damascus is that the traffic lights go to green/walk when the traffic is still getting their green light. Thankfully I didn't see any fatalities. So Syria has been an interesting place; it feels like stepping into what I imagine the old Soviet Union would have been like – very bleak. The government control of public life here seems to be much tighter and much more noticeable than anywhere else I have been. In conclusion I would say that my time in Syria has been one big learning curve, and I continue in search of Shangri-La.
Friendly: Yes
Stange: Very
Enjoyable: Occasionally
Regrets: Never!
Dedicated to the memory of the up to 74,000 civilians who have been killed in the ongoing Syrian Civil War.
The reality of the Syrian civil war
Nearly four years of fighting has resulted in three million refugees, people who have had to flee Syria to save their lives. Around another five million are displaced within Syria, having fled their homes but not their country. This equates to around half of the national population who are living away from their homes due to the conflict. In some refuge countries like Lebanon, up to three quarters of the refugees are women and children.
Human rights violations have been perpetrated in many parts of the country; one report alleges at least 6,000 women have been raped (including gang-rape), while another report claims 11,000 young men in detention had been systematically tortured to death, with methods ranging from strangulation to electrocution and eye-plucking. Unverified videos have emerged of men being restrained then repeatedly stabbed until they collapse, after which large slabs of concrete are used to crush their mutilated bodies. Medical supplies are restricted in many parts of the country, either due to security issues, or in order to pressure the surrender of entire cities. Syrian doctors have reported using crowbars to render surgery patients unconscious in the absence of anaesthetic.
My intention in reporting these facts is indeed to shock and to repulse; too often our news is sanitised and allows us to ignore the horror of what refugees are actually fleeing from. The UNHCR (United Nations High Commissioner for Refugees) is currently collecting donations to provide blankets, mattresses, tents, stoves and heaters for Syrian refugees this winter.
If you would like to donate to this worthy cause, please click here.